politics
Slovak Leaders Clinch Deal to Keep Pro-EU Government in Power
By and
Ruling parties, president agree to change prime minister

More protests are planned for this week to demand snap ballot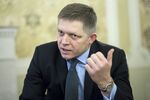 Slovakia's political leadership agreed to keep a pro-European Union coalition in power in a gamble to avoid early elections in the face of protests that have swollen to the biggest since the fall of communism three decades ago.
Facing outrage over the murder of a journalist who was investigating state corruption, the ruling parties and the president agreed to replace Prime Minister Robert Fico with his party deputy Peter Pellegrini. The departure of Fico, who led Slovakia into the euro and portrayed himself as a pro-EU foil to euroskeptic leaders in eastern Europe, underscores political risk in a region that's chafing against the bloc's concept of democratic rule of law.
Slovak President Andrej Kiska's naming of Pellegrini will keep the coalition in power but won't extinguish the public anger over the killing of a journalist who was investigating state corruption. The shuffle might not be enough to win over the civic groups organizing the protests, who accused Fico of failing to crack down on graft and called another demonstration for Friday.
"There is no other government majority at present," Kiska, who has clashed with Fico over his handling of the crisis, told reporters on Thursday. "There's no constitutional majority that would agree to decide to shorten the election term."
Adding to the turbulence in the EU's ex-communist neighborhood, the premier of Slovenia also announced his resignation late on Wednesday, just months before the tiny Adriatic nation is scheduled to hold regular elections.
Read about how a journalist's murder spawned a crisis in Slovakia
Slovakia, a mountainous nation of 5.3 million, was rocked last month by the execution-style murder of Jan Kuciak, who was reporting on links between organized crime and government officials. Since then, tens of thousands of Slovaks have taken to the streets across the country.
Pellegrini, 42, has been a lawmaker for Smer since 2006 elections, which elevated Fico to his first premiership. He climbed the party ranks after Fico won a second term in 2012, starting as a deputy finance minister and ending as a vice premier, following a 16-month stint as parliamentary speaker. Pellegrini's new government must face a confidence vote in parliament that it should pass, and he said the coalition has the backing of 79 of the chamber's 150 seats.
The premier designate is viewed as a member of a progressive, liberal wing within the party which, shortly after its founding, absorbed the reformed communists and, unlike its western socialist peers, opposes gay marriage.
Slovak bonds have shown little reaction during the crisis. The yield on benchmark note maturing in 2031 declined one basis point to 1.26 percent as of 12:19 p.m. in Bratislava.
The ruling coalition has tried to forestall moving the election forward as the scandal has taken a toll on its popularity. Smer's support among voters fell to 20 percent from 26 percent in January, an opinion survey by pollster Focus showed. The main opposition party SaS, which has a euroskeptic platform critical of deeper EU integration, rose to 14 percent, from 13 percent in January. The far-right extremist party LSNS, which celebrates the leaders of the Slovak World War II Nazi-puppet state, gained two percentage points to 10.1 percent.
Even though the coalition has enough parliamentary mandates to hold on to its position, it will face further pressure from the civic groups behind the protests, who have already signaled they won't stop with their demands for snap elections.
"Their effort to maintain power at any costs is clear evidence that they want to sweep all the corruption scandals under the carpet," the organizers said in an emailed statement. "We need a new prospect for a decent and just Slovakia, and that's why we demand early elections."
Before it's here, it's on the Bloomberg Terminal.
LEARN MORE