Sessions Weighs Firing FBI's McCabe Before Retirement
By
FBI review recommends ouster days before retirement: person

Trump taunted that McCabe's 'racing the clock' for benefits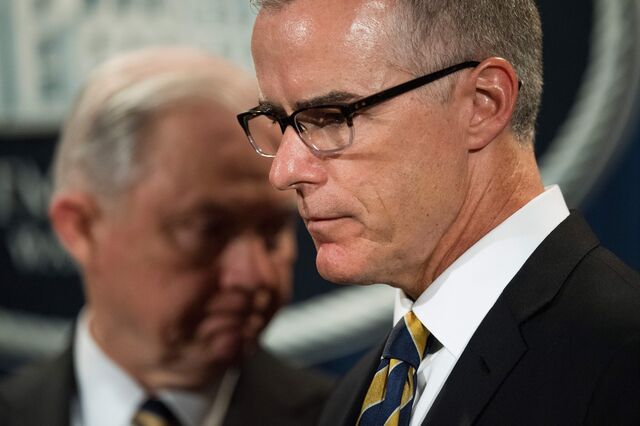 Attorney General Jeff Sessions is being forced to make a politically explosive decision: whether to fire former FBI Deputy Director Andrew McCabe just days before he's scheduled to retire and start drawing his pension, according to a person familiar with the matter.
Sessions is reviewing a recommendation from the FBI's Office of Professional Responsibility that McCabe should be fired immediately for misleading Justice Department officials, said the person, who asked not to be identified discussing the sensitive deliberations.
Sessions could allow McCabe to retire and receive his full pension. But that risks enraging President Donald Trump and Republicans who have railed against McCabe, including for his role in the FBI's decision against charging Democrat Hillary Clinton for mishandling classified information by using private email when she was secretary of State.
"That decision rests with the attorney general," presidential adviser Kellyanne Conway said on Fox News on Thursday. "It's not just about draining the swamp; it's really about the accountability and fairness."
McCabe stepped down as FBI deputy director in January amid blistering criticism from Trump and conservatives. He's been on leave until his retirement takes effect on March 18 and he can start collecting his pension, according to the New York Times, which reported the FBI office's recommendation to fire him earlier Wednesday. If McCabe is dismissed this week, he risks losing at least a portion of his pension.
The allegation against McCabe is that he misled Justice Department officials about his involvement in approving FBI officials to talk to a reporter about the FBI's investigation into the Clinton foundation in October 2016, according to the person familiar with the matter.
Trump's Tweets
Trump has taunted McCabe, tweeting in late December, "FBI Deputy Director Andrew McCabe is racing the clock to retire with full benefits. 90 days to go?!!!" The president also has repeatedly taken to Twitter to belittle Sessions, who he calls his "beleaguered" attorney general.
McCabe's tenure became entangled in politically charged controversies, including the investigation into Clinton's private email and the continuing criminal probe into Russian interference in the 2016 election.
The Justice Department's inspector general has investigated the decision-making in the Clinton email case, including events and actions involving McCabe.
Justice Department spokeswoman Sarah Isgur Flores said "the department follows a prescribed process by which an employee may be terminated."
"That process includes recommendations from career employees and no termination decision is final until the conclusion of that process," she said in a statement. "We have no personnel announcements at this time."
McCabe, 49, came under Republican criticism in 2016 because he helped oversee the Clinton email investigation even though his wife had accepted donations from Democratic political organizations for an unsuccessful campaign in 2015 for the Virginia state senate.
McCabe joined the Federal Bureau of Investigation in 1996 and held management positions in the counterterrorism division and the Washington field office. He became the FBI's acting director after Trump fired James Comey in May, serving in that role until Aug. 2 when Christopher Wray took charge.
— With assistance by Terrence Dopp
Before it's here, it's on the Bloomberg Terminal.
LEARN MORE