business
Qatar to Curb Transfers to Its Sovereign Fund Until 2022
By
Lower oil prices, rising domestic investments crimp surplus

Current spending cuts aren't enough to boost savings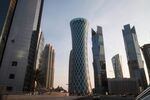 A combination of lower energy prices and increased domestic investments will curb the net transfer of funds to Qatar's sovereign wealth fund until 2022, according to the gas-rich country's latest forecast.
Qatar, isolated in a standoff with its Gulf neighbors, has trimmed its budget since energy revenue began declining in 2014, including removing some subsidies and consolidating government ministries and state-owned companies.
But despite the reductions in "current expenditure," which is projected to decline to 21.2 percent of gross domestic product by 2022 from 32.6 percent in 2015, there will be limited surpluses left over for the Qatar Investment Authority, as the fund is known, the government said in a national development strategy report.
After almost two decades of rapid expansion driven by a sevenfold increase in the production of oil and gas, Qatar's energy boom has waned this decade as projects were completed and focus shifted to promoting non-oil growth. The world's biggest producer of liquefied natural gas plowed that surplus into building a $320 billion sovereign wealth fund.
QIA closed on a raft of high-profile deals since 2005 that made it a prominent shareholder in banks, energy firms, retailers and other listed companies, as well as an owner of trophy properties in London, New York and Singapore.
For more about QIA's assets, click here.
The expected reduction in fund transfers is just the latest challenge facing QIA. It repatriated capital to shore up deposits in local banks after Saudi Arabia, the United Arab Emirates and Bahrain withdrew funds and began a boycott of the country in June.
QIA is also selling some assets, and on Tuesday it sold its entire stake in Paris-based Veolia Environnement SA for 506.8 million euros ($624.8 million).
Before it's here, it's on the Bloomberg Terminal.
LEARN MORE