politics
Italy's Center-Right Leaders Agree to Talk to Five Star
By
League's Salvini tasked with also approaching Democratic Party

Talks will be on parliamentary speakers, first clue to pacts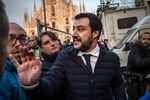 Italy's center-right alliance led by the euroskeptic League has taken the first step toward negotiating with the anti-establishment Five Star Movement, raising the prospect of a populist administration which investors regard with alarm.
League leader Matteo Salvini was given a mandate by his partners to talk to Five Star and the center-left Democratic Party about the election of parliamentary speakers later this month, spokesmen for Salvini and ex-premier Silvio Berlusconi said Wednesday. Disputed reports in the Italian press also suggested that the two men had clashed at a meeting on Tuesday night over the prospect that Salvini might also discuss a governing alliance with Five Star.
A government of Five Star and the League would risk spooking financial markets and Italy's European Union partners concerned about their spending plans and euro-skepticism.

Salvini and Giorgia Meloni of the far-right Brothers of Italy met with Berlusconi Tuesday at the former premier's Rome residence. There were conflicting reports of their discussions.
Salvini's office said the three parties in the center-right bloc all ruled out an accord to govern with the ruling Democrats, who scored their worst-ever result in the March 4 elections. Berlusconi's spokesman said however that only Salvini had ruled out such an accord. La Repubblica newspaper also reported that Berlusconi reprimanded Salvini over the possibility of an alliance with Five Star.
"Do it, go ahead and do the government with the grillini," the newspaper quoted Berlusconi as saying -- "grillini" is a nickname for Five Star members, derived from its co-founder Beppe Grillo. "We'll go into opposition, we can't wait to denounce your betrayal of the voters."
Berlusconi's office said there had been no tension at the meeting. Salvini's office agreed, adding that the encounter was positive and cordial.
European Parliament head Antonio Tajani, whom Berlusconi had picked as his premiership candidate before the election, told RAI radio Wednesday that he doesn't think a Five Star-League government is possible "because the League lawmakers were elected also with the votes of Forza Italia and Brothers of Italy."
"They would never betray the commitment they made to voters," he said.
The choice of speakers for the lower house and the Senate, due from March 23, will be the first clue to possible alliances in the new parliament. Salvini and Five Star leader Luigi Di Maio are both seeking support from other groups to form a majority.
Five Star emerged as the single biggest party after the elections, while the center-right alliance is the largest group overall. Both fell short of a majority.
(
Updates with Tajani comment in eighth paragraph.
)
Before it's here, it's on the Bloomberg Terminal.
LEARN MORE