Business
Even Jamie Oliver Isn't Safe From the Demise of Casual Dining
The Naked Chef's restaurant empire is slimming down and in debt.
By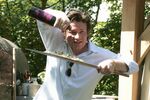 Since he burst onto the global dining scene two decades ago, British celebrity chef Jamie Oliver has captured foodies' hearts with his unpretentious, boyish style, easy-to-follow recipes, and energetic campaigns to tax sugary drinks and make school lunches more nutritious. His restaurants, though, aren't getting much love.
Oliver has closed 20 of his 49 U.K. eateries since January 2017. His Jamie's Italian chain is £47 million ($65 million) in debt, owes £14 million to suppliers, and this winter closed a dozen British locations. Union Jacks, a group of four pizzerias Oliver launched in 2011, shuttered its last outlet in 2017. In January, his two Barbecoa barbecue joints were placed in receivership; one has since closed.
It's a humbling turn for Oliver, whose Naked Chef TV series catapulted him to fame in 1999. (He didn't cook in the buff—the name referred to his preference for simple, wholesome food—but the title helped make the show a hit.) Today, his £165 million-a-year brand encompasses everything from cooking classes and catering to barbecue grills and kitchen utensils. His latest cookbook, 5 Ingredients: Quick and Easy Food, was Britain's nonfiction best-seller last year.
Oliver is a victim of a shakeout that's hitting Britain's casual-dining business after clobbering the likes of Applebee's, TGI Friday's, and Ruby Tuesday in the U.S. Just since January, upmarket British chain Byron Hamburgers and the Italian-themed Prezzo and Strada have all announced restructuring plans. With weak consumer spending and a saturated market, more than a third of the top 100 groups in the business are losing money, according to London accounting firm UHY Hacker Young. Increases in the minimum wage are boosting labor costs, while the 2016 Brexit vote has pushed the pound lower and sparked inflation, putting a dent in consumer spending. Brits now eat 1 in 10 meals outside the home, down from 1 in 8 five years ago, according to MCA Insight, a food research group in London.
Yet the number of eateries grew from 61,400 in 2010 to more than 83,000 in 2016, government statistics show. The increase has been driven chiefly by "fast, large-scale restaurant brand rollouts," often financed by private equity investors who push for explosive expansion in pursuit of a quick return, says David Chubb, a specialist in distressed companies at accounting firm PricewaterhouseCoopers LLP in London. "The trouble is, there are only so many good sites, and a lot of chains are doing the same thing."
In such an environment, a restaurateur can't afford to get things wrong—and Oliver clearly did. His first Jamie's Italian opened in Oxford in 2008 to good reviews, but diners and critics soon started grousing about mediocre food and service. "Jamie, get out, you can do better than this dreadful, truly dreadful, Italian chain!" was the comment in the 2017 edition of Harden's Best U.K. Restaurants, which gave Jamie's Italian its lowest possible rating. "Most celebrity chefs have a successful restaurant, and then the cash-ins come later," says Peter Harden, the guide's co-editor. Oliver, by contrast, "had a meteoric rise in terms of TV," then opened his restaurants, with hired managers at the helm.
A key misstep at Jamie's Italian was a 2015 decision to lay off about a dozen midlevel managers responsible for quality control, says a person with direct knowledge of the situation. After losing £9.4 million in 2016, the chain brought in a new management team and hired restructuring specialist AlixPartners LLP to develop a turnaround plan. The company declined to make executives available for interviews, but said in a statement that the retrenchment will help Jamie's get back to growth and profitability.
While struggling in Britain, Oliver has been expanding abroad. His group has 52 foreign outlets, including Jamie's Deli cafes in European airports, pizzerias in Hungary and India, and Jamie's Italian in dozens of locales from Portugal to Qatar. Almost all are operated by franchisees, which complicates quality control. "Stay away," a customer at a Jamie's Italian outlet in the Oslo airport wrote on TripAdvisor in early March. Of 90 published reviews of the outlet, 49 rated it "terrible" or "poor."
Chains that stay on top of their game will be able to ride out the turmoil, says Simon Stenning, executive director of researcher MCA. Casual Dining Group Ltd., whose brands include Bella Italia and Café Rouge, and Azzurri Group, which runs the ASK Italian and Zizzi chains, have continued to expand, he says. "They're constantly evolving their offer, changing the lighting or the crockery or the glassware, to stay relevant," Stenning says. The ambience in Oliver's restaurants, by contrast, "is getting a bit tired."
Before it's here, it's on the Bloomberg Terminal.
LEARN MORE