business
Chinese Winemaker Buying Up Foreign Vineyards
Bloomberg News
Winemaker to start selling new Australian products from June

Company targets imported wines to account for 20% of its sales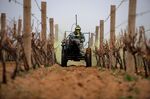 Yantai Changyu Pioneer Wine Co. is betting greater emphasis on foreign vineyards will help win over Chinese drinkers as one of the biggest wine producers in the Asian nation looks to overcome weak sales.
The company, which has bought vineyards in France, Spain, Chile and most recently Australia, will invest in bringing these wines to China to create a new growth engine, Chairman Zhou Hongjiang said in an interview in Beijing on Wednesday. Wines from the Australian vineyard will hit the market in June, he said.
"Consumers are changing," said Zhou, who took over in January. "People born in the '50s and '60s may like baijiu but younger consumers born in the '70s and '80s want to try new things," he said, referring to the local white spirit.
China's wine market is on track to top $21 billion and become the world's second-most valuable by 2020, according to a report by Vinexpo. Yet local brands have fought an uphill battle against Chinese consumers' penchant for imported wine especially from France, and lost ground to foreign competitors for years. Changyu's revenue from wines in the first half of 2017 fell from the year-earlier period.

Zhou is looking to address that. Local wines currently contribute about 80 percent of Changyu's sales and imported ones account for 5 percent, with the rest coming from brandy. The company is targeting local wines to account for half, imported ones for 20 percent and the remaining coming from brandy, he said without providing a time frame.
Changyu also seeks to grab a share of the domestic spirits market from local baijiu brands that have enjoyed roaring success in recent years. It will promote its brandy products by competing with baijiu brands among consumers of mid- to high-end spirits, according to Zhou.
— With assistance by Hui Li
Before it's here, it's on the Bloomberg Terminal.
LEARN MORE