business
Brexit Bulletin: Russian Roulette
By
May needs European allies to help take a stand against Russia

Will EU members willingly unite behind her diplomatic push?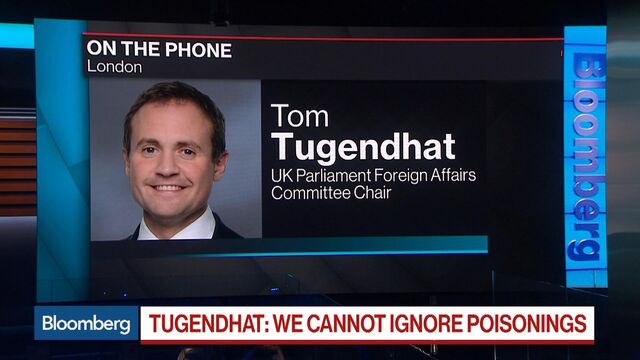 Sign up to receive the Brexit Bulletin in your inbox, and follow @Brexit on Twitter.
A month ago, Theresa May went to Munich to declare that Britain won't abandon the defense of its friends and allies in Europe. Now, the prime minister needs them to help her.
The deadline expired last night for Russia to provide a credible response to her charge that Vladimir Putin's regime is responsible for the first use of nerve agent on European soil since World War II.
Assuming the combination of threatening and eccentric statements from Russia doesn't meet the mark, May will announce she intends to retaliate for the poisoning of Sergei and Yulia Skripal — a former spy and his daughter. Her options include sanctions, expelling Russian diplomats, and launching a cyber attack.
The trouble is, for May's own response to be most credible, she needs to have the coordinated support of as many international allies as possible. She says she wants a deep security partnership with the European Union, not just a deal on trade. What happens next will be a critical test of her ability to maintain British influence and global alliances as she steers the country out of the EU.
May and her team have so far persuaded the U.S., France and Germany to pledge their solidarity, while EU officials have mainly been supportive — though Guy Verhofstadt observed that the spy poisoning shows how Brexit "weakens the U.K. and us."
Later on Wednesday, Britain will make its case to NATO, amid speculation that the alliance could be asked to invoke Article 5, which holds that an attack on one member is an attack on all.
Whatever happens, words won't be enough for May. The key question will be how many other countries are willing to join a U.K.-led coalition to act against Putin.
"Those who threaten our security would like nothing more than to see us fractured," May said last month in Munich, after warning of Russia's aggression. "So let the message ring out loud and clear today: We will not let that happen."
Brexit Latest
In Good Faith? | Bloomberg's Ian Wishart and Nikos Chrysoloras obtained the latest drafts of the EU's Brexit treaty and negotiating guidelines late on Tuesday. They showed that the EU has refused to dilute Irish border proposals that May has vowed never to accept. EU diplomats have added an entire section on "good faith." The new text says the U.K. must act "in full mutual respect." 
Migration Nation | The Sun reports that May's ministers have agreed to allow free movement of EU citizens to continue throughout the transition phase — until 2021 — despite previously saying it would end on Brexit day next year.
The Precious Union | May is locked in a dispute with the devolved governments of Scotland and Wales, who accuse her of attempting a Brexit "power grab." Edinburgh and Cardiff want May to guarantee that when the U.K. leaves the EU in one year's time, powers that return to London are automatically passed back to them. Instead, May wants to hang on to them for a bit. She'll meet the Welsh and Scottish first ministers on Wednesday in the hope of convincing them to support her flagship Brexit law, which is designed to prevent a legal void opening up after Britain leaves the EU.
The Long Goodbye | The U.K. will still be paying off the divorce bill in 2064, according to the U.K.'s Office for Budget Responsibility. That's almost 50 years after the country voted to leave the EU. The reason? Mainly pensions for European officials. 
German Horror | German industry called for a customs union between Europe and the U.K., saying it would soften "the horror of Brexit." Declining trade with Britain, the threat of U.K. regulatory hurdles to German industrial exports and the risk that talks will end in a "hard Brexit" require a broader solution than a free-trade agreement, Germany's BDI industry federation and the VDMA machinery association said on Tuesday.
Blunt Barnier | EU chief negotiator Michel Barnier said he found it "rather surprising" that May thinks he'd accept her plans for the future trade deal. "It's time to face up to the hard facts," he told the European Parliament in Strasbourg on Tuesday. "Clearly you can't have the status of a third country and ask for the advantages of partnership."
And Finally...
The pies are at risk. There is "no cast-iron assurance" that Cornwall's famous pasties will keep their status as protected regional products under EU law when the U.K. leaves. At the moment, only pasties actually made in the county of Cornwall — and from a traditional recipe — can be sold as "Cornish." But British minister Andrew Griffiths told Parliament that this could all change, the Mail reports.

For more on Brexit follow Bloomberg on Twitter, Facebook and Instagram
Before it's here, it's on the Bloomberg Terminal.
LEARN MORE