politics
Pennsylvania Election Still Too Close to Call as GOP Mulls Challenge
By and
Democrat Lamb narrowly leads Republican Saccone for House seat

Contest may be bellwether for November congressional elections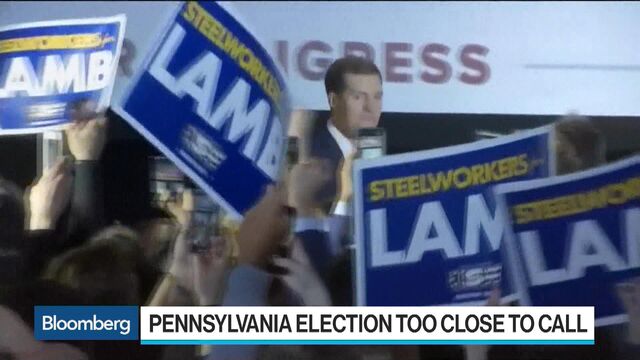 The election contest between Democrat Conor Lamb and Republican Rick Saccone for a Pennsylvania House seat that may be a bellwether for the fall elections remained too close to call Wednesday as the GOP made preliminary plans to challenge the vote.

Lamb was holding a lead of 627 votes out of more than 228,000 cast as election officials in the state worked to finish counting absentee and provisional ballots.
Lamb claimed victory but Saccone hasn't conceded. The New York Times, citing its assessment of remaining ballots, declared Lamb the apparent winner on Wednesday.
"It took a little longer than we thought, but we did it," Lamb told supporters early Wednesday morning.
Republican officials are requesting that all the ballots and voting machines in the district's four counties be impounded in preparation for a possible recount, a person familiar with the plans said. They are also considering filing legal action over reports of irregularities with voting machines and confusion over polling places, according to the person, who asked for anonymity to discuss internal party deliberations.
That the race was competitive at all was a bad sign for Republicans as the party is seeking to keep control of Congress in November. The seat had been in Republican hands for 15 years and Democrats didn't contest it in the last two congressional elections. President Donald Trump won the district by 20 percentage points over Democrat Hillary Clinton in the 2016 election.
"We seem to have reached lot of people, and we saw huge turnout yesterday on both sides – which is great," Lamb told CNN, calling himself a "Pennsylvania Democrat."

Trump campaigned for Saccone on Saturday night in the heart of the district, which stretches from the suburbs of Pittsburgh to the border with West Virginia. During the rally, Trump laid out the stakes in Tuesday's vote.
"I hate to put this pressure on you, Rick, but the world is watching, because I won this district," Trump said.
Saccone addressed supporters late Tuesday at his campaign headquarters in McKeesport, to thank them and to promise he is "not giving up."
"We're going to fight all the way to the end," he said.
Both parties are preparing for the November elections, which will be held amid several retirements by Republicans in closely divided districts, Trump's historically low approval ratings and polls showing voters favoring Democratic congressional candidates over Republicans. The GOP also is bucking historical trends. Democrats need a net gain of 24 seats, and the party holding the White House has averaged a net loss of 26 in midterm elections since the end of World War II.
Saccone, 60, leaned heavily on Trump and promised he'd help the president carry out his agenda. The president, Vice President Mike Pence and president's son, Donald Trump Jr., all appeared on Saccone's behalf.
Lamb by contrast distanced himself from national Democrats, saying he wouldn't support Representative Nancy Pelosi of California as the party's leader in the House. The 33-year-old Marine veteran and former federal prosecutor backs expanded background checks for gun buyers but opposes major new limits on firearms ownership. He's also largely avoided talking about Trump.
But he also criticized the Republican tax cuts as a too much of a boon to the wealthy that short-changed the middle class. Lamb also opposed GOP attempts to repeal Obamacare. While saying he's personally opposed to abortion, Lamb said he recognizes women have a right to choose to terminate a pregnancy.
Lamb matched or outpaced Hillary Clinton's performance in the 2016 presidential election across the district, including the vote-rich Pittsburgh suburbs of Allegheny County, where he was getting 57.2 percent of the vote. Saccone, a state representative and Air Force veteran, wasn't able to equal Trump's results in more heavily Republican areas. In Westmoreland County, he won 57 percent of the vote, compared with Trump's 64 percent in 2016.
The special election is being held because the Republican who represented the district since the 2002 election, Tim Murphy, resigned last October amid a personal scandal.
Barring a last-minute reversal by the federal courts, Tuesday's election was the last in the district as it's currently drawn. The Pennsylvania Supreme Court invalidated the state's congressional map in January, ruling that Republican-drawn district lines unlawfully diluted Democrats' votes. The court supplanted it with a map that's more favorable to Democrats.
— With assistance by Terrence Dopp
(
Updates third paragraph with NY Times calling Lamb the winner.
)
Before it's here, it's on the Bloomberg Terminal.
LEARN MORE