politics
Abe Denies Ordering Documents Doctored in Japan School Scandal
By
Finance Minister Aso also said he didn't order alterations

School controversy threatens to derail Abe's economic agenda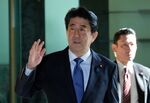 Japanese Prime Minister Shinzo Abe and his finance minister denied ordering officials to tamper with documents at the center of a scandal rocking his administration.

In response to questions in parliament on Wednesday, Abe said neither he nor his wife were involved in approving the sale of land at a heavy discount to a school with connections to ultra nationalists. Opposition parties are boycotting the debate since the administration won't allow the former finance ministry official who has been blamed for the scandal to testify.
QuickTake: The School Scandal Haunting Japan Prime Minister Abe
Opposition lawmakers are seeking the resignation of Finance Minister Taro Aso, a linchpin of the administration who's served as both finance chief and deputy prime minister since Abe returned to power in late 2012. Aso said Wednesday he'd do his utmost to restore public faith in his ministry, which this week conceded its involvement in the alteration of 14 papers, including the removal of Abe and Aso's names.
While Abe's ruling Liberal Democratic Party is unlikely to lose its grip on power, the scandal could hamper his bid to become Japan's longest-serving prime minister. The scandal also threatens to throw Abe's economic agenda off course. He told parliament last year that he'd resign if any link emerged between himself or his wife to the property deal.

Abe has repeatedly denied any involvement on his part, or that of his wife Akie, in the sale of land to Moritomo Gakuen, an educational foundation that subsequently filed for bankruptcy. The foundation ran a kindergarten in Osaka known for espousing elements of the prewar nationalist curriculum, as well as for its explicit backing of Abe, and had planned to use the land for an elementary school.
Before it's here, it's on the Bloomberg Terminal.
LEARN MORE