business
U.S. Arms Exports Surge Amid Growing Middle East, Asian Demand
By
Trump has encouraged diplomats to push American-made weapons

Russian arms sales fall, still world's second biggest exporter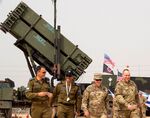 U.S. arms exports surged 25 percent over the five years to 2017, according to data released on Monday by the Stockholm International Peace Research Institute.
Extending its lead as the world's biggest arms exporter, the U.S. accounted for 34 percent of total arms exports. Russia, the next biggest exporter, saw its arms sales fall 7.1 percent to 22 percent of global exports compared with the five years to 2012.
Arms exports to the Middle East, Asia and Oceania increased, while there was a decrease in the flow of arms to Africa, the Americas and Europe.
With the Middle East accounting for 49 percent of total U.S. arms exports, Saudi Arabia was by far its biggest customer. Total arms imports by the kingdom rose 225 percent over the past five years, making it the world's second-largest importer overall.
"Widespread violent conflict in the Middle East and concerns about human rights have led to political debate in Western Europe and North America about restricting arms sales," Pieter Wezeman, senior researcher with the Sipri Arms and Military Expenditure Programme said in a statement.
"Yet the USA and European states remain the main arms exporters to the region and supplied over 98 percent of weapons imported by Saudi Arabia."
U.S. President Donald Trump has been pushing U.S. arms exports since coming to power at the start of 2017. The U.S. negotiated a package of about $110 billion in arms sales during Trump's visit to Saudi Arabia in May last year.
The Trump administration was nearing completion of a new "Buy American" plan that calls for U.S. military attaches and diplomats to help drum up business for the U.S. weapons industry, according to media reports in January.
China was the fifth largest arms exporter in 2013–17. Total exports rose 38 percent between 2008–12 and 2013–17, with Pakistan the main recipient of Chinese arms.
India was the largest importer of major arms for the period, accounting for 12 percent of the global total, with imports rising 24 percent.
Before it's here, it's on the Bloomberg Terminal.
LEARN MORE