Trade Threat Turns Winning Treasury Bear Into Tactical Bull
By
Bets 10-year yield could fall as low as 2.5% on safe-haven bid

Sees pullback from conflict but enduring White House risk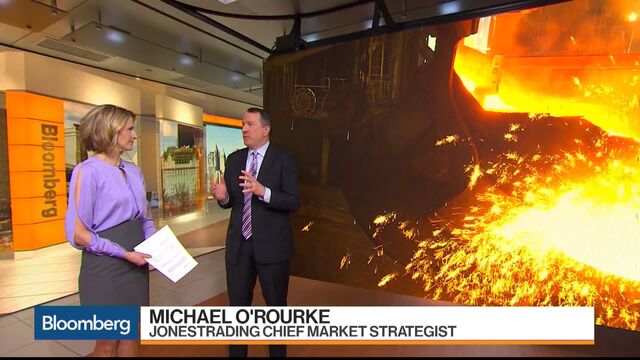 Global trade tensions have prompted Kevin Zhao to dive back into U.S. Treasuries and pare risk assets to the lowest level in five years.
The UBS Asset Management investor is betting that 10-year Treasury yields can drop as low as 2.5 percent over the next three months, from 2.9 percent, as the perennial safe haven gains from U.S. President Donald Trump's tariffs on foreign steel and aluminum.
Zhao, who helps oversee $8 billion as head of global sovereign and currency fixed-income, isn't completely abandoning his bearish stance on Treasuries, though. He's bracing for a deeper selloff later in the year.
"The biggest risk to financial markets isn't Fed tightening, it's not a slowdown in China, it's a potential trade war initiated by the U.S.," Zhao said in an interview in London. "The market isn't prepared for the trade tension."

It's a tactical reversal from the bearish stance he's had since September, after bets on inflation and a hawkish monetary trajectory set off a rout that sent yields to a four-year high. Paring exposure to Treasuries early on helped Zhao's Global Dynamic bond fund return 11.8 percent over the past year, beating 98 percent of peers, according to data compiled by Bloomberg.
Other risk-reduction measures include paring exposures to credit markets as well as to Italian and Spanish debt. Even as he wagers escalating trade reprisals will temporarily sour appetite for all but the safest securities, Zhao doesn't see protectionist bluster -- or low Treasury yields -- enduring.
He's ready to go short on U.S. government bonds again in the second half of the year and thinks yields could climb as high as 3.75 percent on growth and inflation while central banks pull back stimulus.
When Trump "was elected he made similar statements about China but when he realized he couldn't get his way he retreated," Zhao said. "I think a similar pattern will play out on the trade issue."
Unlike most investors polled in a recent Bank of America Merrill Lynch survey, he doesn't see a central bank policy error as a major risk, arguing the U.S. economy is strong enough to withstand a less-accommodative Federal Reserve. In line with consensus he's forecasting three rate hikes this year.
For him, Trump is the one big threat. Zhao hammered home that concern in a recent presentation to the UBS fixed income team by copying the president's face 20 times onto the 'Risks' page.
"Investors are too preoccupied by the Fed," Zhao said. "If you look at all the things that have caused financial markets to panic in the last year, they've come from the person in the White House. Most of our trades are based on trying to avoid exposure to Trump's actions."
Quotes from this Article
Before it's here, it's on the Bloomberg Terminal.
LEARN MORE