politics
Tillerson Says Substance Used in Ex-Spy Poisoning Is From Russia
By and
Poisoning of one-time spy an 'egregious act,' Tillerson says

Attack will trigger a response, Tillerson tells reporters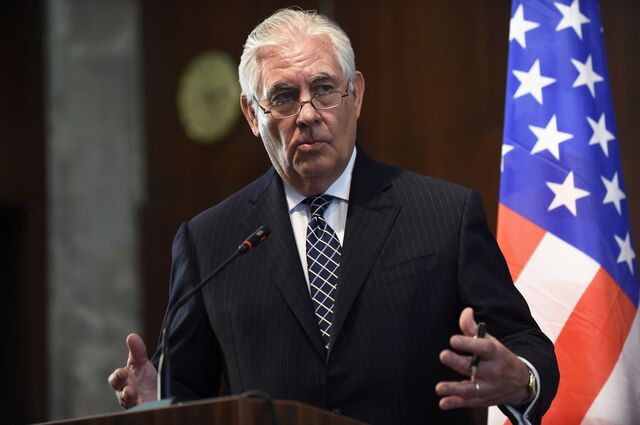 Secretary of State Rex Tillerson joined the British government in saying the poison used in an attack on a former Russian spy in the U.K. clearly came from Russia, calling the episode an "egregious act" that will trigger a U.S. response.
Speaking to reporters as he flew back to the U.S. from Africa, Tillerson said it was still unclear whether the Russian government knew about the attack, but suggested there were few other explanations. Earlier in the day, U.K. Prime Minister Theresa May publicly blamed Russia for poisoning a former spy and his daughter on British soil. Russia's Foreign Ministry quickly denied her accusation.

"This is a substance that is known to us and does not exist widely," Tillerson said. "It is only in the hands of a very, very limited number of parties. And I don't want to say anything further than that."
"This is a really egregious act," Tillerson said, adding that he had just gotten off the phone with British Foreign Secretary Boris Johnson and that the U.S. would soon release a statement about the incident. "It certainly will trigger a response -- I'll leave it that."
Tillerson declined to say what the American response might be to the attack, in which Russia has denied any involvement. But he made clear his own anger over the state of the relationship with Russian President Vladimir Putin's government, saying the U.S. had invested in efforts to work together and solve their problems without much success.
'Very Concerning'
"Quite frankly, after a year, we didn't get very far," Tillerson said. "Instead what we've seen is a pivot on their part to be more aggressive. And this is very, very concerning to me and others that there seems to be a certain unleashing of activity that we don't fully understand what the objective behind that is."
The two victims of the attack, Russian double agent Sergei Skripal and his daughter Yulia, were found unconscious last week in Salisbury, southwest of London after coming into contact with what police later identified as a nerve agent. They remain critically injured and hospitalized. A police officer who arrived early on the scene was also hospitalized, in serious condition.
May told Parliament on Monday that they had been poisoned with a "military grade" nerve agent known as "Novichok" that was developed by Russia. She warned that the U.K. would weigh its options for retaliation.
Russian Foreign Ministry spokeswoman Maria Zakharova dismissed May's statement as a "circus act."
Before it's here, it's on the Bloomberg Terminal.
LEARN MORE