politics
Slovak Leader's Protege Quits With Cabinet's Fate in the Balance
By
Interior Minister steps down in bid to 'stabilize society'

Protesters call for cabinet to resign after reporter's murder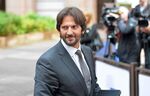 Slovakia's interior minister resigned, dealing the worst blow yet to Prime Minister Robert Fico's government in a political crisis that is fueling the biggest protests in the euro-area nation since the fall of the Iron Curtain.
Robert Kalinak, the political protege of the three-term prime minister, announced his decision Monday after tens of thousands of people demonstrated for a second Friday following the murder of an journalist investigating government corruption. His declaration came hours before the Most party, a member of Fico's coalition, meets to decide whether his departure is enough to stay in government and maintain its majority in parliament.

"My decision to resign is tied to our efforts to stabilize the situation," Kalinak said.
The decision may provide a release valve on pressure against the premier, who's the latest eastern European Union leader to face public outcry. Anti-government protesters have also taken to the streets in Romania, Poland, Hungary and the Czech Republic, to complain their governments are undermining the rule of law and failing to crack down on corruption.
Pressure Persists
Fico has defied calls from demonstrators and President Andrej Kiska to give way to early elections two years before the next regularly scheduled ballot in 2020. The prime minister also joined the ranks of his regional peers, including Hungarian Prime Minister Viktor Orban, in accusing foreign actors such as billionaire financier and philanthropist George Soros of fomenting unrest in a bid to oust them.
Kalinak's departure is arguably Fico's biggest political sacrifice during three terms in power stretching back to 2006, as he's losing the man best placed to replace him at the head of his Smer party. The ruling coalition, which also includes the Slovak National Party, has a slim majority by holding 78 mandates in the 150-seat parliament.
That includes the 14 lawmakers of Most, whose leadership is meeting at 2 p.m. The party made Kalinak's dismissal a condition for it to remain in government. It welcomed his departure on Monday, but according to Grigorij Meseznikov, the director of the Bratislava-based Institute for Public Affairs, it might be too little too late.
"This was their demand 10 days ago, in the meantime people took streets demanding Fico's departure," Meseznikov said. "I'm sure part of the party won't be satisfied. It can lead to a divide within the party and the coalition may lose a formal majority in parliament."
Kiska has called for a "radical" overhaul of the government or early elections to restore trust in state institutions. He said last week that Slovakia had been shaken after the execution-style killing of Jan Kuciak, who was reporting on alleged criminals with ties to the government, and his girlfriend at their home near Bratislava last month.
Before it's here, it's on the Bloomberg Terminal.
LEARN MORE