markets
Melrose Makes Final $11 Billion Hostile Bid to Take Over GKN
By and
New 467-pence proposal is 9 percent higher than original bid

GKN studying new offer, says firm is worth more than 500 pence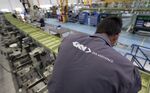 Melrose Industries Plc lifted its hostile bid for GKN Plc to 8.1 billion pounds ($11 billion) in a final attempt to win over shareholders and overcome a competing plan by the U.K. engineering firm to break itself up.
The offer of 467 pence a share would give current GKN investors a 60 percent stake in Melrose, the Birmingham-based investment company said in a statement. GKN, a Redditch, England-based automotive and aerospace supplier, countered that its own plan will generate more than 500 pence a share in value. Its board is due to meet later Monday to formally assess the bid.
Investors have about two weeks to decide whether to take the cash-and-stock offer that would hand Melrose the task of turning around the struggling business, or stick with GKN's plan to sell off its automotive unit and focus on aerospace. Last week, GKN agreed to combine the driveline business with U.S.-based Dana Inc. in a $6.1 billion transaction aimed at repelling its suitor.
Melrose called that plan a "hasty fire-sale" and a "bad deal." Many investors won't be able to hold the shares being offered as part of the automotive deal, it said.
"We have recently made attempts to engage in constructive discussion with the GKN board with a view to agreeing the terms of a recommended offer," Melrose said in the letter. "Your board has unequivocally declined each time to enter into any such discussions."
The new Melrose bid compares with an original offer of 430.1 pence made in January. However, the overall value of the offer fluctuates with the price of the suitor's stock.
GKN fell 0.8 percent to 431.8 pence as of 11:57 a.m. in London, after rising as much as 2.7 percent. Melrose traded down as much as as 4 percent. Melrose's revised offer increases the portion of stock per GKN share to 1.69 from 1.49 while the cash element -- 81 pence per share -- remains unchanged.
The increase is "relatively small and insignificant" and still undervalues GKN's aerospace assets, consultant Howard Wheeldon said by email. The deal with Dana has meant that the "bid for GKN has now been overtaken by events," he said.
GKN's aerospace business has attracted a number of approaches at values "significantly' above what is reflected in the current share price, the company said in its appeal to investors. It's not following up on any proposals because management remains focused on turning that business around, it said.
(
Updates with GKN board meeting in third paragraph, shares in seventh, analyst comment in eighth, details of revised offer in final.
)
Before it's here, it's on the Bloomberg Terminal.
LEARN MORE