Manitoba Offers Tax Cuts as Deficit Narrows to C$521 Million
By
Tax plan will remove 30,000 Manitobans from tax rolls by 2020

Cuts come as province to introduce carbon tax in 2018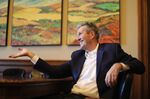 Manitoba plans to offer tax relief as the Canadian province inches closer to its pledge to return to a budget surplus.
The province will increase the personal basic exemption by C$1,010 ($787) on Jan. 1 and another C$1,010 the following year. The move will remove more than 30,000 Manitobans from the tax rolls by 2020 and result in C$218 in total tax savings for individuals, according to budget documents. The plan also raises the small business income tax threshold to C$500,000 from C$450,000, saving businesses up to C$6,000 a year, according the plan.
Premier Brian Pallister told Bloomberg News last month that Manitobans are among the most heavily taxed in the nation and breaks can help reduce that burden.
"It's the largest tax cut in Manitoba,'' Finance Minister Cameron Friesen said Monday from Winnipeg. "This is helping people who needed help. It's helping seniors on fixed incomes, it's helping single parents, it's helping students. It is giving Manitobans a break.''
The cuts come as Manitoba plans to narrow its budget deficit to C$521 million this fiscal year and introduce a carbon tax. The province's deficit is forecast to fall from a revised estimate of C$726 million for the fiscal year that ends April 1, according to budget documents. Manitoba has posted deficits since 2010 and the Progressive Conservative Party government has pledged to run a surplus by 2024.
Prudent Measures
"I think it is prudent with the Canadian economy coming up against capacity limits to start returning to balanced budgets," Paul Ferley, assistant chief economist at Royal Bank of Canada, said in a telephone interview before the report's release. "The priority should be to try to return to strong fiscal measures to put you in a solid position if and when further down the road you get hit with a negative shock."
Manitoba's economy has not been hit by the downturn in oil and its economy has seen solid growth from a recovery in agriculture and manufacturing, Ferley said. Despite the recent gains, growth is expected to moderate as construction spending eases with some Manitoba Hydro projects coming to an end, he said.
Manitoba is Canada's fifth most-populous province, with 1.3 million people. The province's fiscal strategy is based on 2 percent growth this year and 1.6 percent in 2019, according to the budget plan.
Carbon Tax
Revenue in the 2018-19 fiscal year will rise 4.3 percent to C$16.8 billion amid an increase in federal transfers and growth from the new carbon tax, according to the budget plan. Manitoba's carbon tax will impose a C$25 per ton levy on greenhouse gas emissions starting Sept. 1, which will generate C$143 million in the 2018-19 fiscal year. The new tax will cost the average household about C$240 a year, according to the plan.
Program spending is forecast to rise 2.2 percent to C$17.4 billion. Manitoba plans to borrow C$6.4 billion in capital markets in 2018-19, down from C$6.7 billion a year earlier.
The province's net debt will rise to C$25 billion, equal to 34 percent of gross domestic product, according to budget documents.
Manitoba's credit rating was cut by Standard & Poor's in 2016 and again last year as it carries one of the highest debt loads among Canadian provinces. S&P rates the province A+, in line with Ontario yet below Saskatchewan.
Manitoba's bonds have declined 2.4 percent this year, lagging other provincial and municipal bonds which lost 2.2 percent, according to a Bloomberg Barclays index. The province's most recently sold bonds, 2.6 percent securities due 2027, traded to yield 2.94 percent on Monday. That's 69 basis points above similar-maturity federal government bonds and six basis points above Ontario.
Pallister's government has pledged to roll back the provincial sales tax to 7 percent from 8 percent in their first term, which ends in 2020. The cut would give Manitoba an edge over neighboring Ontario, with its 8 percent rate.
"We're going to lower the tax burden on Manitobans," Pallister said. "We lowered it today in this budget and we're going to lower it over the next two years by record amounts."
— With assistance by Maciej Onoszko
Before it's here, it's on the Bloomberg Terminal.
LEARN MORE