Japan's Government Under Fire as Scandal Touches Abe's Inner Circle
By
Finance ministry admits that officials falsified documents

Aso says he'll stay in office while blaming subordinate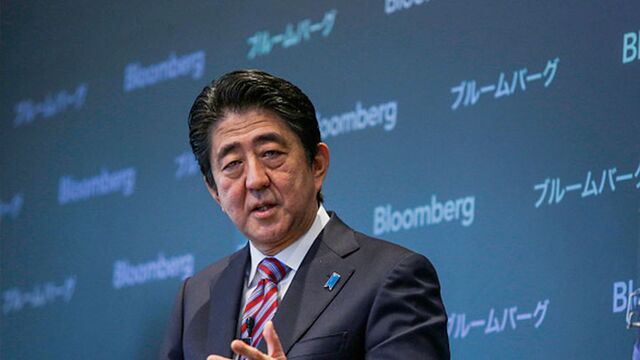 Japan's government said Monday that the names of Prime Minister Shinzo Abe, his wife and his finance minister were deleted from documents at the heart of a land scandal that erupted last year, a revelation that threatens to derail his administration and its economic strategy.
Finance Minister Taro Aso apologized and said an internal investigation was ongoing as opposition lawmakers called for him to resign. He admitted that staff in his department tampered with the documents, but said all the blame rests with one of his subordinates who resigned last week. Abe also sought to limit the damage.
"We'll continue the investigation to get to the bottom of why this happened -- I want Finance Minister Aso to take responsibility for that," Abe told reporters in Tokyo Monday. "This situation has shaken public trust in the whole administration, and as its head, I feel responsibility and deeply apologize to the people."
While Abe's ruling Liberal Democratic Party is unlikely to lose its grip on power, the scandal could hamper his bid to become Japan's longest-serving prime minister. He told parliament last year that he'd resign if any link emerged between himself or his wife over a property deal in which a school with connections to ultra nationalists bought public land at a heavy discount.
"The question is whether this scandal will stop here," said Hiroshi Shiraishi, a senior economist at BNP Paribas SA in Tokyo. "If not, there will be increasing questions over whether Aso can stay on," said Shiraishi. He added that if Aso resigned, Abe would come under attack next.
Quicktake: The School Scandal Haunting Japan's PM.
The yen strengthened sharply earlier in the day amid concerns Aso would quit, casting a shadow over the fiscal and monetary stimulus programs that have weakened the currency. The yen retraced some of its moves when he stood firm. Stocks also gyrated on the political uncertainty.
While Abe last year appeared to weather the scandal -- leading his party to a landslide election win in October as North Korea tensions increased -- it resurfaced last week.
Nobuhisa Sagawa, the tax chief who served under Aso, stepped down Friday amid questions over his involvement in the deal. The resignation that came on the same day as it became public that an official at a regional finance ministry bureau in charge of the sale was found dead, in a suspected suicide. Aso said Sagawa was ultimately responsible for doctoring the documents, adding that the alterations weren't made to protect Abe or his wife.
Trump Tariffs
Abe has repeatedly denied any involvement on his part, or that of his wife Akie, in the sale of land to Moritomo Gakuen, an educational foundation that subsequently filed for bankruptcy. The foundation ran a kindergarten in Osaka known for espousing elements of the prewar nationalist curriculum, as well as for its explicit backing of Abe, and had planned to use the land for an elementary school.
Aso, 77, is a linchpin of the administration who's served as both finance chief and deputy prime minister since Abe returned to power in late 2012. As the key economic negotiator with the U.S., he's overseeing Japan's efforts to get exclusions from steel and aluminum tariffs as President Donald Trump bemoans the U.S.'s trade deficit with its ally.
"Japanese politics had been very stable and this was one of the biggest things that attracted international investors," said Masaaki Kanno, chief economist at Sony Financial Holdings and a former official at the central bank. "Signs of political destabilization mean the yen is likely gain and while the share market falls, at least in the short term."
Abe's Ambition
The controversy is likely to slow progress on labor market reforms and derail Abe's ambition of revising the constitution to clarify the legal status of the nation's military.
Hiromichi Shirakawa, chief Japan economist at Credit Suisse Group, said he's concerned that public confidence in Abe's government will fall so much that it gives up on its plan to push through an unpopular increase in the sales tax in 2019. Another delay in raising the levy would bring a cut in Japan's sovereign credit rating, he said.
The scandal is dominating newspaper front pages and TV news programs, and the approval rating of Abe's cabinet dropped to 48 percent in a poll published by the conservative Yomiuri newspaper late Sunday -- 6 percentage points lower than the previous survey last month. About 70 percent of respondents to a separate Fuji News Network survey said Aso should step down.
Abe, 63, faces a Liberal Democratic Party leadership election this autumn and may not survive 2018 as prime minister, according to Takuji Okubo, chief economist at Japan Macro Advisors.
"Abe may stay on as a kingmaker, but a fresh face at the top seat of the government will likely bring substantial changes to the policy mix in Japan," Okubo said in an emailed note. "In our view, the changes are likely to take the direction toward fiscal consolidation and more conservative monetary policies."
— With assistance by Yoshiaki Nohara, and Toru Fujioka
Before it's here, it's on the Bloomberg Terminal.
LEARN MORE