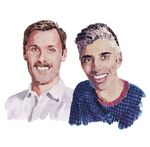 Most college students think about ketchup only when burgers and fries are around. Inspired in part by reading a New Yorker article by Malcolm Gladwell about how firmly Kraft Heinz Co. dominates that sector of the condiment market, Brown University undergrads Scott Norton and Mark Ramadan decided to take up the challenge.
As economics majors, they'd already noticed that when it came to foods such as cereal and potato chips, there were plenty of options; why was ketchup any different? In 2008, in Norton's off-campus apartment, they concocted their own all-natural recipe, a spicy, not-too-sweet sauce made only with ingredients they could find at the supermarket. In 2010 they started selling bottles identified by a black-and-white illustration of a top-hatted gentleman, Sir Kensington. The duo had sales of $40,000 in the first year to such outlets as Dean & Deluca and Williams Sonoma.
Sensing that they were onto something, Norton and Ramadan turned their attention to other overlooked products, whipping up jars of mayonnaise in chipotle and Sriracha flavors, along with an array of mustards with high-quality accents, such as Vermont maple syrup. "We call our customers 'evolved eaters,' " Ramadan says. Their innovative thinking coincided with America's artisanal obsession, and in April 2017, Unilever Plc acquired the brand for an estimated $140 million, according to Bloomberg.
Sir Kensington's has become the No. 1 condiment brand at Whole Foods, and in natural food stores it beats out Heinz's organic ketchup. It's also replaced Heinz in institutions such as Madison Square Garden, in in-flight meals on United Airlines, and in meal kits such as Home Chef. Nicolas Jammet, a co-founder of the upstart salad bar Sweetgreen, says Sir Kensington's mayonnaise is a key to the best-selling Caesar dressing served at all 86 Sweetgreen locations in the U.S. "We also like that they disrupted a category," he says. "And what a category to disrupt!"
In April, Norton and Ramadan start shaking up another staple dominated by one brand: ranch dressing. According to a January 2018 Nielsen report, Clorox Co.'s Hidden Valley controls more than 51 percent of the category, and ranch makes up 36 percent, or $719 million, of the $2 billion shelf-stable dressing category. Unilever "could have said, 'Don't do this,' " Ramadan says. "But they've been supportive of taking the brand in a new direction." Sir Kensington's will introduce four flavors, including avocado oil, buffalo, and a "pizza ranch" that has all the flavors you'd expect on a classic cheese slice.
Before it's here, it's on the Bloomberg Terminal.
LEARN MORE