markets
Ex-Newell Director Conroy Backs Starboard, Says Change 'Needed'
By and
Starboard chief Smith calls Conroy's statement 'validation'

Shares of Crock Pot, Rubbermaid maker jump 6.1 percent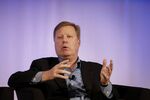 Kevin Conroy, who resigned last week from the board of activist target Newell Brands Inc., said he supports Starboard Value's efforts to turn around the company.
Conroy said in an emailed statement that his decision to leave the board was a personal choice. While he left on amicable terms, Conroy said he wants "to set the record straight" on the reasons for his departure.
"I resigned because I do not believe that the current course is the optimal path forward for the company," he said in the statement. "I am not comfortable with recent events and have come to believe that change is needed."
A representative for Newell declined to comment.
Conroy, a former executive with Metro-Goldwyn-Mayer Inc., was the fifth director to resign from Newell, as the maker of Crock Pots and Rubbermaid faces a proxy fight with activist fund Starboard. Led by Jeff Smith, Starboard is partnering with former executives of Jarden Corp., which was bought by Newell two years ago, in its fight to replace Newell's entire board.
"Kevin's public statement of support for our efforts is much appreciated and even further validation, we believe, that our director candidates are the right ones to deliver the material change required for the benefit of the company and its shareholders," Smith said Monday in a separate statement.
Newell rose 6.1 percent to $28.99 on Monday. The shares are down 40 percent over the past year.
The consumer goods conglomerate has been retreating from the debt-fueled acquisition strategy that Chief Executive Officer Mike Polk championed, and in January it announced a transformation plan that will involve selling several brands.
On Thursday Newell announced the departure of Conroy, who was elected to the board seven years ago. The company's chairman, Michael Cowhig, thanked Conroy for "his steadfast and energetic support of our business strategy and our accelerated transformation plan," according to a statement.
In response to Starboard's criticisms, Newell has appointed new directors to its board and stepped up its defense of the turnaround plan. Newell has said the initiatives to overhaul its operations, which were unanimously supported by the board, will make it "simpler, faster and stronger."
(
Updates with Starboard's comment in sixth paragraph.
)
Before it's here, it's on the Bloomberg Terminal.
LEARN MORE