politics
Trump Says Cohn Might Return Someday to His Administration
By
Top economic adviser's resignation announced earlier in week

Cohn had vociferously opposed plan for steel, aluminum tariffs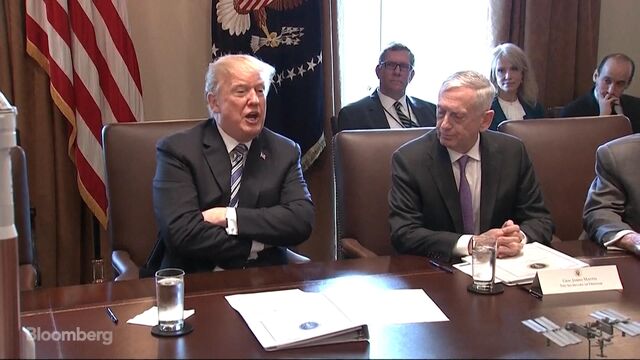 President Donald Trump said Gary Cohn might return to his administration some day even as he teased the departing economic adviser for being weak on tariffs.
Trump told reporters at the beginning of a cabinet meeting Thursday that Cohn might come back but probably not in the same job, joking that the former Goldman Sachs Group Inc. banker is "not quite as strong on those tariffs as we want."
"I have a feeling you'll be back," Trump told Cohn.
"Absolutely," Cohn said.
Cohn announced his departure Tuesday as the president decided to move forward with a plan to slap tariffs on steel and aluminum imports -- a plan Cohn had vociferously opposed.
Trump said Cohn has been "terrific" as his top economic adviser and predicted "he's going to go out and make another couple of hundred million" dollars.
"He may be a globalist but I still like him. I mean seriously a globalist, there's no question," Trump added. "But you know in his own way he's a nationalist because he loves our country."
(
Updates with additional Trump quotes beginning with third paragraph.
)
Before it's here, it's on the Bloomberg Terminal.
LEARN MORE