politics
Malaysia's Opposition Promises to Abolish GST in First 100 Days
By
Opposition unveils a 60-point manifesto ahead of election

Malaysia expected to hold 14th general election within months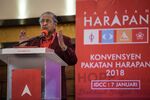 Malaysia's opposition has pledged to abolish a goods-and-services tax introduced in 2015 within its first 100 days in power if it wins a general election that must be held before August.
In a 60-point election manifesto released on Thursday, the opposition coalition -- known as Pakatan Harapan, or Pact of Hope -- also pledged to stop future prime ministers from serving more than two terms and bar them from holding multiple ministerial portfolios.
Malaysia's opposition has named Mahathir Mohamad, 92, as its candidate for prime minister until jailed de facto leader Anwar Ibrahim, 70, is eligible to take over after his expected release in June. Mahathir, who served as prime minister from 1981 to 2003, is Malaysia's longest serving premier.
Mahathir will battle former protégé and current Prime Minister Najib Razak, 64, who leads the United Malays National Organization, or UMNO. The party has held power since independence in 1957 and is the most important member of the ruling coalition known as Barisan Nasional.
Najib, who has served as prime minister and finance minister since 2009, won a narrow victory in the last general election in 2013. Since then he's benefited from a global trade recovery and a pickup in domestic spending, with economic growth reaching around 5.9 percent last year.
A December survey by Merdeka Centre for Opinion Research indicated that Najib's coalition was poised to regain its two-thirds majority in parliament, the Malaysian Insight reported. Another forecast published in January by non-partisan research firm Politweet also showed the ruling coalition in a strong position.
Read the QuickTake Q&A: Your Guide to Malaysia's Coming General Election
Still, the opposition bloc is looking to capitalize on concerns over rising costs. It pledged to reduce living expenses within its first 100 days in power by replacing the 6 percent GST with a sales and services tax "that is more fair and not burdensome to the people and businessmen."
Other spending pledges include the introduction of a pension plan for housewives, targeted petrol subsidies and lifting minimum wages.
In its manifesto, Pakatan Harapan also promised to:
Remove the "prime minister's power to manipulate important national institutions," and halve the budget for the prime minister's department to 8 billion ringgit ($2 billion).
Reduce transport costs by reintroducing gasoline subsidies, reviewing toll road concessions, and lowering import duty on 1,600 cc vehicles or smaller
Increase petroleum royalties to oil-producing states to 20 percent or equivalent
Give mandate to the central bank to develop a strategy to return the ringgit to its actual potential within 3 years
Introduce mandatory 90-day maternity leave, and set the minimum age for marriage at 18 years old
Resolve issue of stateless Indians within 100 days in power and recommend state-owned institutions to ensure 10 percent of new hires are from the ethnic Indian community
Boost Malaysia's ranking in Transparency International's corruption perceptions index to the top 10
Before it's here, it's on the Bloomberg Terminal.
LEARN MORE