politics
Labour Says 'Inevitable' U.K. Will Stay in an EU Customs Union
By and
Opposition wants seat at EU table to broker new trade deals

McDonnell seeks parliamentary majority to back customs union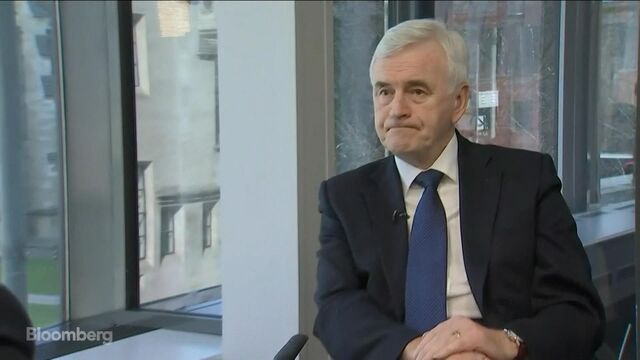 The U.K. will almost certainly have to stay in a customs union with the European Union after leaving the bloc, the opposition Labour Party said.
"I think it's almost inevitable and I'd rather the government faced up to that inevitability now," the party's finance spokesman, John McDonnell, said in a Bloomberg TV interview on Thursday. "I don't see any other way about securing the tariff-free access that we want, and also securing the position with regard to the Northern Ireland border, which is extremely complex."

Labour last month changed its policy to say it will seek a customs union with the EU to ease concerns about post-Brexit trade.
May opposes such a union because it would leave the U.K. unable to broker its own trade deals with third countries. But enough of her own Conservative Party's lawmakers support it to defeat her in Parliament if they join forces with Labour and other parties, piling pressure on the premier.
At least 10 Conservative lawmakers have put their names to an amendment in the government's trade bill that would force it to seek a customs union with the EU after Brexit. Labour's leadership team has proposed similar amendments, and McDonnell suggested the party may get behind the Tory backbench proposals.
Seat at the Table
"Whichever route we get there, we hope we can convince a majority in Parliament for a customs union," McDonnell said. "I'm hoping that the government will accept the amendment and not push it to a vote."
McDonnell also said Labour wants Britain to negotiate new trade deals with countries such as China and Australia alongside the European Union after leaving the bloc. The party has faced accusations from the Tories that its change in policy would leave the U.K. unable to broker new trade deals with third parties.
"The proposal that we've got is negotiate around a customs union so that we could have an influence on those trade deals via working with our partners in the European community," McDonnell said. "We'd have an influence. We'd be rule makers rather than rule takers. So the opportunity for us is working with our European partners to ensure that we have trade deals which reflect our own development of our own economy as well as Europe overall."
Before it's here, it's on the Bloomberg Terminal.
LEARN MORE