business
Tusk Says `Ireland First' in EU-U.K. Negotiations: Brexit Update
By , , and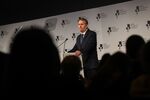 Lawmakers are reacting to the EU's opening negotiating position, published on Wednesday, with Trade Secretary Liam Fox and Shadow Chancellor John McDonnell both speaking in London.
The EU says it's offering the U.K. a trade deal that would keep tariffs and quotas off goods but would do little for services. That's a blow to the finance industry, which wants to secure mutual recognition of regulations so the City of London can maintain its status as a financial hub.
We are following events in real time. Time stamps are London.
Tusk Slaps Down Hammond Over Financial Services (4:06 p.m.)
Again speaking along Varadkar, Tusk makes very clear that "when it comes to financial services, life will be different after Brexit." He points out that services are not about tariffs, but about common rules, common supervision and common enforcement -- and delivers a somewhat withering critique of Philip Hammond's speech on Wednesday.
"I also heard the Chancellor's words about financial services being very much in the mutual interest of U.K. and EU," he said. "I fully respect the U.K. Chancellor's competence in defining the U.K.'s interest. I would ask to allow us to define what's in the EU's interest."
Tusk Says 'Ireland First' in Negotiations (3:53 p.m.)
Speaking alongside Irish Prime Minister Leo Varadkar in Dublin, EU President Donald Tusk made clear progress is needed from the U.K. on resolving issues around the Irish border before Brexit talks move on.
"Any backsliding on commitment made so far would create a risk to further progress in Brexit negotiations," Tusk said. "If in London someone assumes that the negotiations will deal with other issues first, before moving to the Irish issue my response would be: Ireland first."
Foster Accuses EU of Bad Faith on Ireland (1:10 p.m.)
Arlene Foster, leader of the Democratic Unionist Party which props up Theresa May's government, said the draft EU withdrawal agreement is an "act of bad faith" by Brussels because it only includes the "backstop" position agreed in December on the border between Ireland and Northern Ireland.
"We had two other options in there in relation to how to deal with things on the island of Ireland, and so we need to see those replicated in the text as well" Foster told delegates at the British Chambers of Commerce conference in London.
Read more: What Is Theresa May's Next Move? A Game of Brinkmanship Is On
Bosch, BMW, Wizz Air Among Executives at No. 10 (12:39 p.m.)

The prime minister's office has released the list of attendees for a European business leaders' round-table in Downing Street:
Jose Maria Alvarez-Pallete Lopez, Chairman & CEO, Telefonica
Steffen Hoffmann, President of Bosch U.K.
Daniel Kretinsky, Chairman, EPH
Veronique Laury, CEO, Kingfisher
Angelique Magielse, Managing Director, Abellio
Francesca McDonagh, CEO, Bank of Ireland
Ian Robertson, member of the Board of Management of BMW
Soren Skou, CEO, A.P. Moller-Maersk
Jozsef Varadi, CEO, Wizz Air Holdings
Official Analysis Shows Brexit Won't Kill Banks (12:16 p.m.)
The famous government Brexit analysis has finally been released -- and it paints an intriguing picture of how important Theresa May's officials think EU market access is to different sectors of the economy.
It shows that pharmaceuticals is the industry for which access to the EU market is most critical, closely followed by automotive and chemicals. Financial services -- in particular, banking and market infrastructure -- is the most important sector to the U.K. economy as a whole. But the government does not think the financial services industry has very much to lose from Brexit, placing it toward the bottom of the list of sectors affected.
The document has been published by the Commons Brexit committee. Here's the link (the relevant chart is on page 10).
Meanwhile Labour's spokesman on the economy, John McDonnell, said financial services must be included in a future trade deal and that's a "red line." He spoke at a conference in London. That chimes with what Chancellor of the Exchequer Philip Hammond said on Wednesday, that any deal that doesn't include services won't look fair and balanced.
Labour Says U.K. Must Have Say in Trade Deals (11:03 a.m.)
Labour sees a new U.K.-EU customs union as a way to ensure tariff-free trade and to prevent a hard border with Northern Ireland, but the party will also demand that the U.K. remains able to "negotiate agreement on any new trade deals," the party's business spokeswoman Rebecca Long-Bailey says at the same conference.
"We wouldn't countenance a deal that left Britain a passive recipient of rules decided by others in other countries," she says.
Fox: Irish Border Best Solved by 'Liberal' Deal (10:54 a.m.)
"The question of the Irish border is best sorted out by a comprehensive and liberal agreement between the U.K. and European Union," Fox says at a British Chambers of Commerce conference in London. "Why would we introduce costs to consumers and tariffs that don't exist today?"
Coming Up:
* Prime Minister Theresa May meets CEOs at Downing Street
* Labour's John McDonnell speaks at noon
* Democratic Unionist Party leader Arlene Foster speaks at 12:20 p.m.
* EU Council President Donald Tusk is in Dublin and will speak at 3:30 p.m.
Earlier:
EU Rejects U.K. Trade Demands and Says Brexit Means Losing Out
U.K. Firms to Stockpile Goods and Parts to Avoid Brexit Delays
U.K. Says Regulators Can Help Make Brexit Transition Smoother
— With assistance by Tim Ross
Before it's here, it's on the Bloomberg Terminal.
LEARN MORE