Politics
Cohn Is Out, and the Verdict Is In: The Nationalists Are Back
The former Goldman Sachs executive brought "a sane voice to a very chaotic cabinet." In the end, it wasn't enough.
By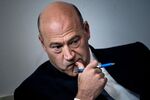 When the Dow Jones industrial average closed at a record high on Jan. 26, it looked like the reigning wisdom about Donald Trump and his presidency might be all wrong: Trump had sold himself to voters as a fire-breathing nationalist eager to rip up trade deals, stick it to Wall Street, and impose Steve Bannon-style protectionism. But Bannon was gone, stocks were booming, and ex-Wall Street luminaries such as Gary Cohn and Dina Powell appeared to have the upper hand in the White House following the passage of tax reform. Trump seemed to revel in his unexpected status as hero of the business community and the reassessments it prompted. That same day, he returned from overseas to a triumphant headline in the New York Times: "Trump Arrived in Davos as a Party Wrecker. He Leaves Praised as a Pragmatist."
The glow of success fell especially brightly on Cohn, the director of the National Economic Council, who was widely seen as a primary architect, and chief beneficiary, of Trump's string of victories. He seemed ticketed for bigger things. Privately, Trump discussed making him his next chief of staff.
But appearances can deceive. Six weeks later the globalist glow has vanished, Trump has reverted to his nationalist impulses with the steel and aluminum tariffs, the White House is once again in turmoil—and Cohn is on his way out the door. On March 6, after a bitter internal dispute over tariffs, he announced he was resigning. Cohn, a Democrat who strongly favored free trade, said in a statement that it had been an "honor to serve my country and enact pro-growth economic policies" and thanked Trump for giving him the opportunity. Markets were spooked by the whiplash. As Cowen Inc. analyst Chris Krueger wrote in a note to clients, "Wall Street just lost its security blanket."

Trump's presidency has been marked by seasons of chaos and calm that have yielded policies that swing between globalist and nationalist. These outcomes are often driven by his mood and the staff surrounding him. In the administration's tumultuous early days, the nationalist faction led by Bannon and Stephen Miller routinely bypassed the agency process to enact such measures as the travel ban on visitors from seven Muslim-majority countries, reflecting Trump's stance on immigration. When this ad hoc approach failed to yield satisfying results, Bannon and his crew were ushered out, and the nature of how the White House functioned changed.
Beginning last fall, new chief of staff John Kelly, Cohn, and allies including National Security Advisor H.R. McMaster and Defense Secretary James Mattis managed to institute a more traditional and orderly White House process that, while never smooth, paved the way for the historic tax reform package Trump signed into law on Dec. 22, delighting the "globalist" crowd he'd once inveighed against. As former Goldman Sachs executive Michael Novogratz remarked, Cohn brought "a sane voice to a very chaotic cabinet."
More broadly, Cohn instilled a kind of willed serenity and faith among global business leaders that Trump could successfully be managed and steered in a corporate-friendly direction. In Davos, once-nervous foreign officials such as Roberto Azevêdo, the director-general of the World Trade Organization, told reporters that they were warming up to Trump. "I haven't seen anything at this point that we are in a trade war," he said.
But Trump never renounced his antipathy to free trade. Rather, the advisers most eager to push him in that direction, led by Commerce Secretary Wilbur Ross and trade adviser Peter Navarro, were successfully blocked or their entreaties redirected by the newly empowered chief of staff and his allies. Most important among Kelly's compatriots was White House staff secretary Rob Porter, the gatekeeper who controlled the paper flow into the Oval Office.
According to multiple White House officials and outside advisers, the string that unraveled and ultimately led to Cohn's departure began on Feb. 6, when the Daily Mail published allegations by Porter's two ex-wives that he'd abused them. The ensuing furor led to Porter's departure and was followed by the resignation of White House communications director Hope Hicks, who'd helped craft the botched response to the allegations, and Josh Raffel, her deputy. Weeks of negative headlines surrounding the scandal soured Trump's opinion of his chief of staff. Kelly also came under attack from erstwhile White House rivals such as former communications director Anthony Scaramucci, who in an interview with Bloomberg News maligned Kelly as "General Jackass."
With Kelly weakened and his gatekeeper gone, Navarro and Ross had easy access to Trump and helped him set up the March 1 announcement that he would impose tariffs of 25 percent for foreign-made steel and 10 percent for aluminum—protectionist measures Cohn forcefully opposed. Joined by McMaster, Cohn had argued repeatedly and passionately to Trump that the tariffs on imported metals would damage the relationship between the U.S. and its closest allies while threatening to erase some of the benefits of the $1.5 trillion tax cut legislation the president had signed. In the end, Trump ignored them. "We've been mistreated as a country for many years, and it's just not going to happen anymore," Trump said at a March 6 news conference with Swedish Prime Minister Stefan Löfven. "When we're behind on every single country, trade wars aren't so bad."
Although outwardly abrupt, Cohn's departure from the White House was something he'd been mulling for many weeks. Several people Cohn asked for advice urged him to leave the administration as soon as possible following the signing of the tax law. They were surprised that he stuck around after his ex-Goldman colleague Powell left the White House last month.
According to these friends, Cohn enjoyed the trappings of power and the prestige of working in the White House. One person saw him four days before his resignation holding court with young professionals at the bar in the Four Seasons Hotel in Georgetown. Casually dressed, he laughed and talked loudly. There was no sign of trouble on his mind, the person said.
But with tax reform done, Cohn had also been searching for a broader role in the administration. With no cabinet positions expected to open up and major legislation unlikely as the midterm elections approach, he was focused on steering Trump away from tariffs. But White House chaos and the exodus of establishment-minded allies meant that this time he wouldn't prevail, and Trump—angry at the tenor of news coverage of his presidency and eager to project strength—sided with Navarro and Ross.
On March 6 the divide came to a head in an Oval Office meeting where Trump sought confirmation from his advisers that he had their support. According to two people with knowledge of the exchange, the president asked Cohn directly and didn't get the answer he wanted. Hours later, Cohn was on the way out.
In a sign of the nationalist ascendancy, Navarro has been mentioned as a possible replacement for Cohn. Navarro demurred when asked about his interest in the job on Bloomberg Television. "I'd be honored, but I'm not on that list, let me be clear," he said. He also defended the tariffs as "very modest" measures that would help the economy.
Observers in both the globalist and nationalist camps believe Trump's change of direction since Jan. 26 signals something larger. "It's very simple," says Bannon. "Trump has reverted back to his nationalist roots. That's why the globalist Wall Street crowd is on the way out. They never changed Trump's worldview. His center of gravity remains economic nationalism—and it always will be." —With Robert Schmidt, Jennifer Jacobs, Margaret Talev, and Max Abelson
BOTTOM LINE -
With a trade war looming, Cohn's defeat and departure signal the ascendancy of the nationalist wing of the Trump White House.
Before it's here, it's on the Bloomberg Terminal.
LEARN MORE