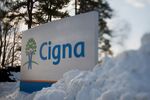 Drugmakers have largely avoided the mega-merger fever gripping the rest of the health-care sector. That leaves them at a growing disadvantage when it comes to setting prices.
The latest example of the consolidation trend is Cigna Inc.'s purchase of pharmacy benefit manager Express Scripts Holding Co. for a total value of $68.4 billion, including net debt. 
Cigna and Express Scripts are emulating the combination of CVS Health Inc. and Aetna Inc., which itself aped UnitedHealth Group Inc.'s aggressive expansion into the PBM business. Now the three biggest U.S. pharmacy benefit managers will be tied to three of its largest health insurers. 
Instead of just managing a subset of traditional medicines as standalone PBMs do, these combined companies will often manage the totality of a person's medical costs. That includes complex drugs delivered in hospitals. That could mean tighter and better-informed cost management across drug classes, lending significant extra negotiating power to these payers.
The relative lack of big-time consolidation in pharma -- the last deal of similar size I'd put in that category 1 is Pfizer's 2009 purchase of Wyeth LLC for $64.2 billion-- has led to a growing number of overlapping drug categories. For example, there are currently five approved medicines in a new category of immune-boosting cancer drugs, and more are on the way. Large PBM-insurer hybrids seem especially well-equipped and inclined to take advantage of such crowding by squeezing prices lower. Drugmakers already like to complain about these discounts because they feel middlemen take too big a cut. They are unlikely to enjoy the next few years. 
And while PBMs have been criticized for their role in higher drug prices -- most recently in a barn-burner of a speech this week by FDA commissioner Scott Gottlieb -- I'm not sure this will result in policy changes that will benefit drugmakers. 
Much of Gottlieb's criticism of PBMs centered on the fact that they profit from the drug discounts they negotiate, and thus have an incentive to favor drugs that offer huge discounts. That encourages drugmakers to hike list prices as they seek favorable coverage on PBM preferred drug lists. 
But I don't foresee drugmakers getting a bigger cut of the drugs they sell any time soon. The more likely outcome is that these consolidated companies follow the lead of UnitedHealth, which has pledged to pass drug discounts directly to patients enrolled in a subset of its employer health plans. That's good for patients on expensive medicines, but doesn't do anything for pharma. 
Drug companies are likely to keep griping about rebates even if payers start passing more savings to consumers. The sector might be better served by developing fewer copycat medicines, or perhaps by doing a bit of retaliatory consolidation of its own.
Before it's here, it's on the Bloomberg Terminal.
LEARN MORE