business
Your Evening Briefing
Here are today's top stories
By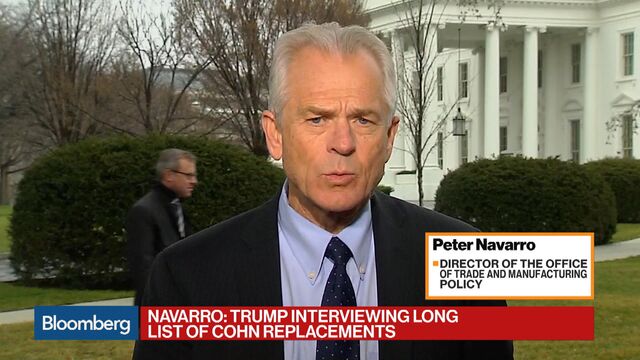 Want to receive this post in your inbox every afternoon? Sign up here.
A day after the White House lost Gary Cohn, its loudest voice against tariffs, it's moving ahead with plans to implement them. A formal announcement could come as soon as Thursday, Steven Mnuchin told Bloomberg. For now, he and his colleagues are downplaying what it'll mean for the U.S. economy. "We are the freest trader in the world, hands down," said Peter Navarro. "We're comfortable with the economic impact," said Mnuchin. —Sam Schulz
With Cohn gone, the hardliners are taking over the White House. Cohn, a registered Democrat, was seen as one of the few political moderates close to President Donald Trump. His departure is a victory for those who trying to push Trump toward protectionism and curbs on immigration and to purge the White House of free-trade advocates. It could also threaten U.S. bank stocks.
A double whammy of tariffs and a new Nafta could cripple the American automakers it's supposed to help. It's unclear whether any North American-built vehicles could get tariff exemptions. The White House signaled Wednesday that was a possibility.
Google managed to make the name Zagat all but obsolete in just under seven years. After it bought the dining-out bible, Google had Zagat's staff de-emphasize restaurant reviews—long the backbone of its business—while it added user reviews to its maps listings, in a bid to ward off Yelp. 
Bitcoin's Tokyo whale sold $400 million, and he's not done yet. The bankruptcy trustee for the now-defunct Mt. Gox exchange said he's sold about $400 million worth of Bitcoin, which slumped Wednesday, and Bitcoin Cash since late September and is sitting on another $1.9 billion of the tokens.
America is giving away the $30 billion medical marijuana industry. At foreign labs, scientists are growing genetically-modified cannabis strains and engineering them with sophisticated methods in search of a better high. In Mississippi, it took one scientist three years just to get permission to grow a single strain high in a non-psychoactive compound used in an epilepsy drug.
Wells Fargo is the go-to bank for gunmakers and the NRA. It's helped two of the biggest manufacturers access $431.1 million in loans and bonds since the gun-control debate gained steam after the Newtown, Connecticut, school shooting, according to data compiled by Bloomberg.
David Rockefeller's estate sale may hit $1 billion. More than 1,500 lots—including rare Picassos, Monets and Gauguins—from the philanthropist's collection will go to auction in May.
Before it's here, it's on the Bloomberg Terminal.
LEARN MORE