technology
Venezuela Sees Crypto Rollout Ending Reviled Dolartoday Rate
By
Central bank to sell Petro through foreign currency auctions

Petro may also scuttle black market FX tracking platforms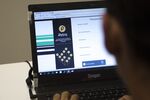 Venezuela continued the rollout of its oil-backed cryptocurrency Tuesday, announcing how the so-called Petro will be introduced into wider circulation, which it says will also mark "the burial" of various black market rate tracking platforms that have embarrassed the government.
Speaking at a televised news conference Tuesday, Vice President Tareck El Aissami said that the Petro -- a percentage of which went on sale last month -- will be sold through central bank foreign currency auctions and will be traded on more than 20 international and local exchanges. The government will allow banks to trade currency for the Petro, he said.
For the government, the Petro's rollout also may finally silence platforms such as dolartoday, a widely-watched website that's tracked the collapse of the country's currency and aroused President Nicolas Maduro's ire. Going forward, Venezuelans will be able to use the Petro as an intermediary between the bolivar and the dollar, creating an implicit exchange rate that could potentially render dolartoday and similar platforms useless.

"The only way this could become a widely-used marker is if there's stable demand for Petros in dollars," said Jean Paul Leidenz, an economist at Caracas consultancy Ecoanalitica. "But that doesn't guarantee the rate will be any different than the non-official one. The only way to eliminate a black market of currencies is to allow a free and formal market, be it through the Petro or not."
Read more: Why Governments Might Join the Cryptocurrency Craze: QuickTake
Venezuela has maintained strict currency controls since 2003, pushing people and businesses to the black market when they can't obtain government approval to purchase dollars at the legal rates. Skyrocketing inflation, estimated to spiral to 13,000 percent this year, has rendered the bolivar nearly worthless. Even small shop owners now demand foreign currency for nearly everything they offer.
The dollar has gained 89 percent against the bolivar just this year, following a 3,400 percent gain in 2017. The rate stood at around 210,000 bolivars per greenback on Wednesday, according to dolartoday. An initial phase of sales for the Petro reserved for institutional investors started Feb. 20, while a public offering is scheduled for March 20.
Venezuela's opposition-led National Assembly, which has largely been reduced to a symbolic role after Maduro created rival bodies, said in a statement Tuesday that the Petro violates constitutional rights and all sales from it should be annulled.
(
Updates with chart and dolartoday's rate in sixth pagraph.
)
Before it's here, it's on the Bloomberg Terminal.
LEARN MORE