markets
U.K. Pension Liabilities Increase to 7.6 Trillion Pounds
By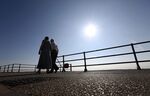 U.K. pension liabilities increased by 1 trillion pounds ($1.4 trillion) in the five years through 2015, government figures published Wednesday show.
They stood at 7.6 trillion pounds, with the state pension -- a universal entitlement paid by the government -- accounting for more than half the amount, the Office for National Statistics said. There were more than 2 trillion pounds of entitlements linked to private-sector pensions.
Years of emergency monetary stimulus has left defined-benefit retirement plans facing growing deficits, but higher interest rates should offer some relief as funds use government yields as a discount rate to measure future obligations. Plans were around 94 percent funded at the end of December, according to Pension Protection Fund.
"Long-term interest rates are unlikely to reach pre-crisis levels for many years, yet pension liabilities should keep shrinking as monetary conditions are normalized," Jamie Murray and Dan Hanson of Bloomberg Economics wrote on Wednesday. "Corporate balance sheets will therefore reap some benefit. To the extent that this has been a concern for businesses in recent years, that could help offset some of the costs associated with rising short-term interest rates."
Read More: Forget Rates, Brexit Is the Real Business Headache
Before it's here, it's on the Bloomberg Terminal.
LEARN MORE