business
Walmart, Nike Suppliers Put on Notice by China Tariff Threat
By and
Walmart, Nike Suppliers Put on Notice by China Tariff Threat
By and
U.S. weighs taxing imports that could hit China manufacturers

Action may ensnare apparel supplier Li & Fung and Samsonite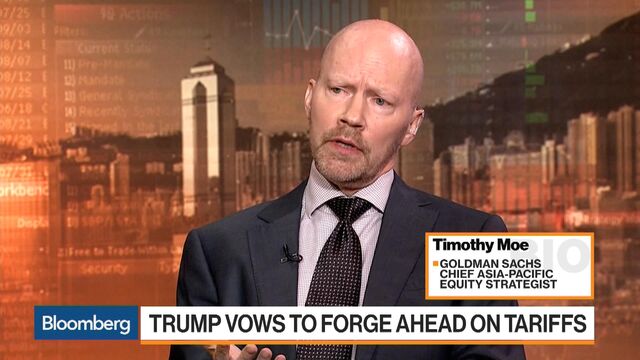 Some of China's biggest manufacturers that supply U.S. multinationals from Walmart Inc. to Nike Inc. find themselves in President Donald Trump's cross hairs as his administration discusses new import tariffs.
The U.S. is considering taxing imports from shoes and clothing to consumer electronics, putting on the hook companies including Yue Yuen Industrial Holdings Ltd. and Li & Fung Ltd. that help fuel the about $450 billion in Chinese goods imported to America annually. Chinese manufacturers won't be the only ones hurt in a trade war, as their close relationships as suppliers to American brands will likely create a ripple effect.
"Our greatest fear is a trade war," said Eric Li, the owner of Huizhou Baizhan Glass Ltd., which has a factory in Guangdong province and makes glass lampshades for Home Depot Inc. and Lowe's Cos. "I hope Trump realizes that everything has a price. Americans also have things they need to sell to China and the world, so he should think of the consequences."
Many Chinese manufacturers are part of the global supply chain. Li & Fung, which sources clothes and toys for retailers, counts Walmart and Macy's Inc. as customers, while Yue Yuen supplies Nike and Under Armour Inc.
Yue Yuen generates about 25 percent of its sales in the U.S., while Li & Fung relies on the U.S. for almost two thirds of revenue, according to Bloomberg data. The American Apparel and Footwear Association said that some 98 percent of shoes and 97 percent of clothing sold in the U.S. are imported. Most of that manufacturing comes from China.
Read more: The U.S. Businesses at Risk From Trade War With China: QuickTake
Companies that have products assembled in China, such as Apple Inc., may be hurt, and Deutsche Bank analysts said General Electric Co. is also among those most at risk. It's also not clear how tariffs might affect a borderless company like Samsonite International SA. The Hong Kong-listed company has headquarters in Mansfield, Massachusetts, and uses Chinese factories to make some of its travel luggage.
A Samsonite representative couldn't immediately be reached for comment.
The reaction to the Trump administration's trade moves continued as European Union Trade Commissioner Cecilia Malmstrom warned Wednesday that the U.S. would face a "firm" response should it go ahead with threatened new tariffs on foreign steel and aluminum.
Malmstrom's comments come as the EU has drawn up a list of about $3.5 billion in U.S. goods it intends to target with retaliatory levies if the Trump tariff plan proceeds.
Shifting Production
Chinese manufacturers may be able to mitigate the impact of U.S. trade policy, as many have been shifting production to Southeast Asia over the last three years, said Bloomberg Intelligence retail analyst Catherine Lim.
Spencer Fung, chief executive officer of Li & Fung, noted that the company operates in 60 countries with more than 15,000 factories. "If there is any change in trade policy, we have the ability to channel production to any market quickly," he said in an email response to questions.
The wide-ranging tariffs under consideration aren't yet set in stone. Yuan Yafei, chairman of retail-to-finance conglomerate Sanpower Group that bought U.S.-based Dendreon Pharmaceuticals LLC for $820 million last year, said an all-out trade war is unlikely.
"I think two big powers like China and the U.S. should be partners, and a trade war won't take place," he said in an interview Wednesday. "The two countries need each other."
These Chinese companies find themselves shielded from trade politics.
U.S. retailers successfully pushed back last year against a proposal by Republican leaders in Congress to apply a border tax on imports. Nevertheless, Trump has been ratcheting up global trade tensions this year, slapping tariffs on imported solar panels and washing machines in January and announcing duties on steel and aluminum imports last week.
Some analysts worry that if the situation intensifies, there will be few winners.
"Virtually no sector will go unpunished. We're really concerned about what this would do for the prices that American customers pay every day," said Hun Quach, vice president for international trade at the Retail Industry Leaders Association in Arlington, Virginia. "Any punitive tariffs on imports will result in dramatically higher prices on everything from clothing, electronics, home goods."
(
Updates with EU trade commissioner's comments in eighth and ninth paragraphs.
)