Putin Praises Trump as Ready Partner, Blasts U.S. 'System'
By and
Problem is with 'unpredictable' U.S. policy, Putin tells TV

Putin warns 'no guarantee' U.S. won't use nuclear arms again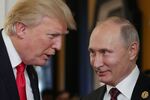 Russian President Vladimir Putin praised Donald Trump as a willing partner as he lashed out at the U.S. for what he described as its "unpredictable" behavior, warning there's no guarantee Moscow's Cold War rival wouldn't resort to nuclear weapons.
"I'm not disappointed with my opposite number, I'm increasingly disappointed with the system itself" in the U.S., Putin said in a documentary produced by state television released online on Wednesday. "It's showing its ineffectiveness, it's devouring itself. Dealing with a system like this is very difficult because it's unpredictable."
Trump earlier this week issued a rare rebuke to Putin, criticizing the Russian leader as "irresponsible" for showing off new "invincible" nuclear weapons during his annual state-of-the-nation address, some of which appeared to target the U.S. in animated videos. Still, Putin insisted that the U.S. president is someone with whom he can seek compromises and "come to an agreement."
Putin has betrayed increasing frustration over the growing standoff with the U.S., which has quashed hopes that Trump raised during his presidential campaign of turning a new page in ties between the two powers. Accusations that Kremlin meddling may have helped Trump win the 2016 election and conflict over Syria, Ukraine and arms control are gradually ratcheting up tensions.
Nuclear Warning
The Russian leader, who's accused the U.S. of triggering a new arms race by building up a missile-defense system Putin says is aimed at blunting his country's strategic deterrent, said any use of nuclear weapons would lead to Armageddon.
Russia has never used nuclear arms, the Russian leader said, noting that the U.S. did against Japan at the end of World War II. "Where's the guarantee that it won't happen again?"
Russia would only use nuclear bombs in response to an attack that threatened its existence, he said. "For the world it will be a global catastrophe." 
In that case, "as the leader of Russia, I have the right to ask the question, why do we need such a world if there's no Russia?"
Bear Video
The 90-minute documentary, airing less that two weeks before elections in which he's expected to easily win a fourth term, portrayed Putin as a decisive actor on the world stage. It highlighted his rebuilding of Russia's military power and geopolitical status, cutting between his meetings with world leaders, video of the Russian intervention in Syria and shots of a camouflage-clad Putin observing a wild bear in a river and playing piano at home.
Rising powers like Russia and China need to "feel their responsibility grow with their strength," Putin said. In an apparent reference to the U.S., he added, "And those who inevitably will have to move from the top position on the pedestal should do that with dignity, understanding and without hysteria."
Putin raised economic issues only in the last few minutes, saying, "the modern greatness of any country is based on economics. Without an effectively working economy, without a social sphere that creates the foundation for political stability, we can't talk about any greatness."
With an economy struggling to recover from recession caused by falling oil prices and sanctions, Russia is facing years of sub-par growth, according to economic forecasts.
Before it's here, it's on the Bloomberg Terminal.
LEARN MORE