politics
Netanyahu Jokes About His Future, Puts Rivals on Election Notice
By
Israeli prime minister says early elections are an option

'I work my 16-hour days," Netanyahu says about turmoil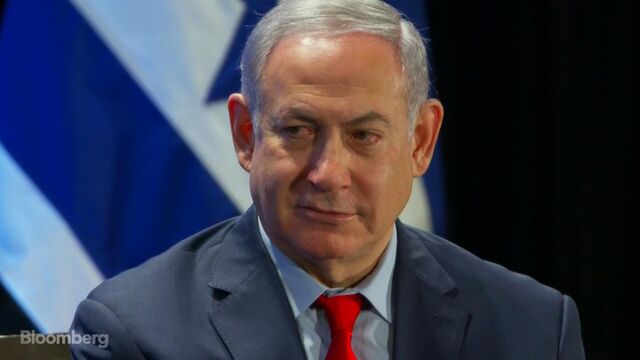 Israeli Prime Minister Benjamin Netanyahu managed to joke about his precarious political situation and warned his political rivals about the potential for early elections at the end of a three-day trip to Washington where he met with President Donald Trump.
Asked about the "pleasures of the job" on Wednesday by billionaire David Rubenstein, Netanyahu -- who has seen three close aides reach deals to testify against him in corruption probes -- quickly retorted "Oh, investigations!" When Rubenstein said the prime minister's red tie looked like it could have been a gift from the U.S. president, Netanyahu said "that could be investigated too."

But in a shot across the bow against coalition partners who have threatened to bring down his government, Netanyahu -- his nation's second-longest serving prime minister -- said he intends to finish his four-year term that runs through late 2019. Ultra-Orthodox parties have threatened to withdraw their support for his government if it doesn't exempt men in their community from military service.
"If the coalition agrees, that's what we'll do, and if not, we'll go to elections," Netanyahu said, appearing on stage at the Economic Club of Washington D.C. with Rubenstein, who hosts Bloomberg's "The David Rubenstein Show: Peer-to-Peer Conversations."
Netanyahu made his standard, impassioned, plea for more economic investment in Israel and said Arab nations increasingly see their interests aligned with the Jewish state over Iran's role in the Middle East.
As Netanyahu Meets Trump, His Troubles Back Home Intensify
Asked to give advice on where to invest in Israel, Netanyahu said "Invest in anything. Invest in a parking lot in Tel Aviv. It's only the beginning."
With the risk of indictments hanging over his head, Netanyahu said he isn't distracted by the political turmoil.
"Well, I can't say that I like it," Netanyahu, 68, said. "I work my 16-hour days and I just do it. My hands are full. I am very, very satisfied with what I do."
Netanyahu's Likud party has been polling well in recent weeks as his political base rallies around him while the allegations of corruption against him mount. Although it's not clear he wants early elections, if polls continue to show him faring well, that could influence him to seek a vote before he's weakened politically by a possible indictment, analysts said.
Seeking an optimistic outlook on his current predicament, Netanyahu said he sees opportunity in times of crisis.
"The places where you can do the greatest change is crisis," he said. "When you have a crisis, that shibboleth is true, don't waste it."
Before it's here, it's on the Bloomberg Terminal.
LEARN MORE