politics
Navarro Says He's Not on Trump's Shortlist to Replace Cohn
By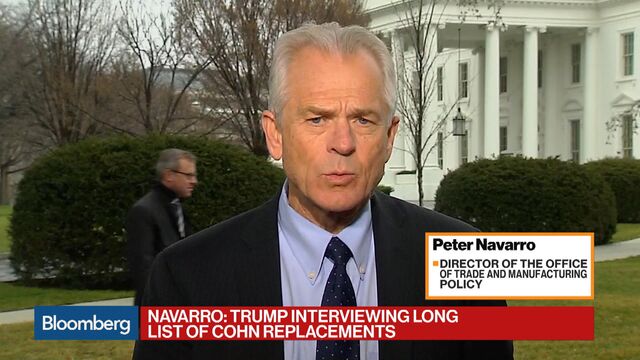 Peter Navarro, the top White House trade adviser pushing for new tariffs on steel and aluminum imports, said he's not on a shortlist to replace National Economic Council Director Gary Cohn, who announced his resignation Tuesday in part over the planned tariffs.
"I'd be honored but I'm not on that list, let me be clear," Navarro said in an interview on Bloomberg TV. "I've got a very full plate here at the Office of Trade and Manufacturing Policy."
Navarro also defended President Donald Trump's pledge to impose tariffs of 25 percent on steel imports and 10 percent on aluminum imports, calling them "very modest" measures that would help the economy.
Cohn, former president of Goldman Sachs Group Inc., said Tuesday he would resign after a bitter dispute within the White House over the tariffs. Navarro said Trump has a "long list" of people he's interviewing to replace Cohn.
The tariffs were "tracking very well" to be signed later this week, Navarro said, without providing additional details.
Before it's here, it's on the Bloomberg Terminal.
LEARN MORE