The One
Isn't It Time You Upgraded to the Diamond Level of Toothbrushing?
The Philips Sonicare DiamondClean Sonic Toothbrush is convenient, flexible, and powerful. Give in, already.
By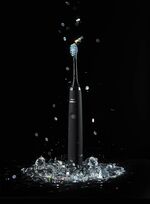 THE CHARACTERISTICS
Your dentist has already said this, but allow us to remind you: You can get the same teeth-cleaning quality with a manual brush as you do with an electric one, but it won't be quite as easy. The Philips Sonicare DiamondClean, an industry standard-setter since its debut in 2011, comes with everything you need for an immaculate mouth. There's a two-minute timer, so you don't scrimp on duration, and its five settings including sensitive and whitening. But the secret to its popularity among users and dentists alike is a sonic technology that allows the head to vibrate at 31,000 strokes a minute, propelling fluid and microscopic bubbles between the teeth, where normal brushing doesn't reach. (This will pick up the slack from your poor flossing habits.)
THE COMPETITION
Studies are divided over which is better at combating gum disease and removing plaque, the $220 Sonicare or the $50 Oral-B Pro1000. Some dentists prefer the Oral-B's rotating action, but the Sonicare is easier to use and charge—simply drop the unit in a cup with an induction pad on the bottom. For even less fuss, the $149 Foreo Issa, which also uses sonic pulse technology, has a silicone brush that requires changing only once a year. The Philips has extra-gentle bristles to avoid enamel damage and a diamond-shaped head well-suited for hard-to-get-at spots; you'll need to replace the $13 brush every three months. Don't bother with the relatively new $230 Smart Sonicare and its connected iPhone app; they're entirely too much work.
THE CASE
You don't brush with the Sonicare so much as hold it against your teeth and slowly move it around your mouth. It does the rest of the work for you, making it less likely you'll miss problem areas. An early study found that the device reduces gum inflammation by an average 32 percent over the first six months, whereas the Oral-B reduces it by 18 percent. And if you really want to see why the Sonicare is worth it, try brushing once manually and once with the device on deep-clean mode. You'll feel as if you have an entirely different mouth. The powerful vibration takes some getting used to, but once you've adjusted, you'll never want to go back to doing the work yourself. $220; usa.philips.com
Before it's here, it's on the Bloomberg Terminal.
LEARN MORE