markets
Ghana President Tells Lenders to Reduce Their Interest Rates
By
Lending rates do not reflect monetary easing by central bank

Cost of debt continues to weigh on private sector's expansion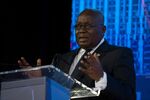 Ghana President Nana Akufo-Addo said the country's banks should cut their lending rates for clients.
Lenders are failing to pass on lower rates from the central bank and are standing in the way of economic progress, Akufo-Addo said Wednesday in an emailed copy of a speech he delivered at the Ghanaian unit of Ecobank Transnational Inc. in Accra, the capital.
While the Bank of Ghana has reduced its key rate by 550 basis points to 20 percent since November 2016 as inflation slowed to the lowest in at least five years, lenders have continued to charge their clients an average of 29.3 percent to 31.7 percent since the start of the monetary easing cycle, he said.
"The gap between what is happening to the decline in inflation and the lending rates being charged by the private sector is a gap we have to bridge," Akufo-Addo said. "Lending rates must come down. And they need to come down as a matter of urgency."
The year-old government of Akufo-Addo came to power on pledges to implement policies that will support the private sector. While growth in the West African nation is forecast to accelerate to 8.3 percent this year as oil producers continue to lift output from new fields, manufacturing and some services sectors remain under pressure as the high cost of debt weigh on their profits.
"My challenge to you is to complement the efforts of my government, which is creating a more stable macro-economic framework, by bringing down lending rates," Akufo-Addo said.
Ruled Out
In January, Bank of Ghana Governor Ernest Addison ruled out the possibility of setting a limit on lending rates. The central bank's new capital requirements were designed partly to create bigger lenders that will operate more efficiently and enable them to bring down borrowing costs, he said.
In Kenya, President Uhuru Kenyatta introduced a cap on bank lending rates in August 2016 to spur access to credit in East Africa's biggest economy. The move, which limited bank charges on loans to 400 basis points above the central bank's rate, exacerbated dwindling demand for private-sector credit that was already slowing because of tighter industry regulations and the collapse of three lenders in eight months.
"Everybody, with the benefit of hindsight, can see the negative impact of putting into place interest-rate ceilings," Addison said Jan. 22. "Capping of interest rates, I think, is completely out of the question."
(
Adds president's comments in first paragraph.
)
Before it's here, it's on the Bloomberg Terminal.
LEARN MORE