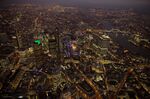 Investors are increasingly using environmental, social and governance criteria when deciding where to allocate money. That's a welcome development. But when it comes to promoting gender equality in corporate leadership, the asset-management industry itself is falling short.
A study released on Wednesday by the Official Monetary and Financial Institutions Forum, a London-based think tank, shows the extent of the problem. It calculates a Gender Balance Index based on the ratio of female and male senior staff, weighted by assets under management for European pension funds and global sovereign wealth funds and by gross domestic product for central banks.
The good news is that European public pension funds do better than either the world's central banks or global sovereign wealth funds in terms of gender balance. The bad news is that their score of 40 percent remains well below the 100 percent mark that would signal equality.
Digging into the data reveals a wide imbalance between the pension custodians of different countries.
At the start of this year, Iceland became the first country to make it illegal for companies to pay men more than women, part of the country's effort to eliminate its gender pay gap by 2022. The nation has previously made it mandatory for firms with more than 50 employees to have a female board presence of at least 40 percent. As the table above suggests, government action can be a powerful motivator in forcing society to reform.
Gender imbalances have a real economic impact. As the OMFIF report notes, women get a raw deal in pension entitlement that echoes the gender pay gaps that are commonplace during their working lives.
There are limited signs the industry is slowly trying to adapt. Girls Who Invest is a non-profit organization with the goal of seeing 30 percent of the world's investable capital managed by women by 2030. This week, it announced a sponsorship deal with Pacific Investment Management Co., the fixed-income fund manager owned by Allianz SE. Pimco will offer internships to some of the group's members, as well as helping with the organization's teaching programs.
As the OMFIF's data shows, pension funds have a long way to go to achieve gender equality. But if the asset-management industry is taking its ESG responsibilities seriously -- and wants to be taken seriously when it espouses those same standards to the companies it invests in -- it needs to get its own house in order.
Before it's here, it's on the Bloomberg Terminal.
LEARN MORE