markets
From Hedge Funds to SocGen, Doubts Remain on More Aggressive Fed
By and
SocGen, BlackRock find value in short-term Treasuries

Hedge funds reduce short position in two-year Treasuries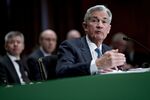 The Federal Reserve may be signaling an increasing chance of four interest-rate hikes this year, but plenty of doubters remain.
Societe Generale SA and BlackRock Inc. are finding value in short-term Treasuries even as the chances grew on four rate rises this year following Fed Chairman Jerome Powell's congressional testimony last week. SocGen's New York-based head of U.S. rates strategy said that three hikes make sense given the outlook for inflation.
"They're going to be very cautious as they go along," Subadra Rajappa said on a recent visit to Singapore. "The front end of the curve is starting to look attractive." Two-year yields of 2.25 percent "look attractive. 2.25 is fairly priced for three hikes for this year," she said.

Hedge funds and other speculators trimmed their short positions in two-year Treasury notes to the least since September as of Feb. 27, the same day Powell made the first of two appearances before Congress, data from the Commodity Futures Trading Commission show. Bond-yield forecasts show the federal funds rate at 2.35 percent by the fourth quarter, which implies more than three but less than four rate increases by the end of the year.
BlackRock sees short-dated bonds becoming more appealing after the recent rapid increase in yields has put them above the rate of inflation. Interest rates would need to jump more than one percentage point to wipe out a year of income in the two-year Treasury note, Richard Turnill, BlackRock's global chief investment strategist, wrote in a note.
"This is nearly double the cushion on offer two years ago -- and far larger than the thin insulation provided by longer-term bonds today," Turnill said.
Since the views of these two strategists were aired, one of the Federal Reserve's most ardent doves appears to have shifted her stance. Governor Lael Brainard sounded optimistic about the U.S. economy's outlook and suggested the pace of monetary policy tightening may need to accelerate.
BlackRock, the world's largest asset manager, said the U.S. Treasury market is catching up with the Fed's own projection of rate hikes in 2018, largely on the back of fiscal stimulus.
"As the market has adjusted to an outlook of three to four Fed rate hikes, we see limited downside," Turnill said.
Before it's here, it's on the Bloomberg Terminal.
LEARN MORE