markets
Dudley Says Puerto Rico Shouldn't Be Seduced by Economic Bounce
By and
New York Fed expects growth pickup from construction this year

Growth will probably slow again in 2019 or 2020, Dudley says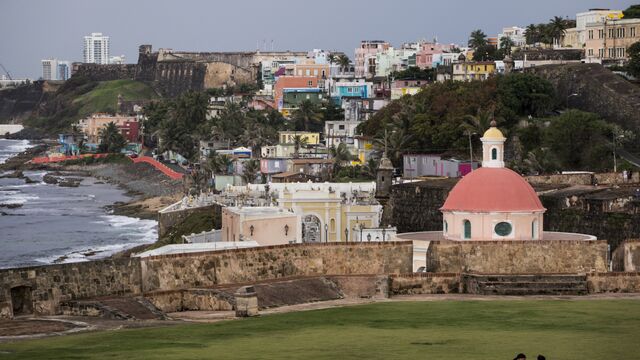 Puerto Rico shouldn't misinterpret the economic boost from reconstruction following hurricanes that hit it hard last year as a sign of underlying strength, Federal Reserve Bank of New York President William Dudley said.
"It's really important not to be seduced by that strong recovery in the immediate aftermath of the disaster," Dudley said Wednesday while answering questions after a presentation in San Juan, Puerto Rico. Dudley was there to meet with local leaders because Puerto Rico is part of the New York Fed's district.

"We would expect there to be a bounce in 2018 as the construction activity gets underway in earnest" before the economic growth slows again in 2019 or 2020, Dudley said. It's "important not to misinterpret what it means, because a lot still needs to be done on the fiscal side and the long-term economic development side."
As part of the trip, Dudley and his team took a tour through densely populated lower-income neighborhoods in San Juan that were hit hard by the storms.
One striking aspect of the tour was the prevalence of "blue roofs" -- temporary roofs overlaid with blue tarps that were installed to replace those that were blown away by the hurricanes, Dudley said while speaking with reporters after the presentation, adding that there is "lots of construction that needs to take place before the next storm season." The official start of the 2018 Atlantic hurricane season is June 1.
Before it's here, it's on the Bloomberg Terminal.
LEARN MORE