business
Banks Reject Fears That Sweden May Run Out of Cash
By and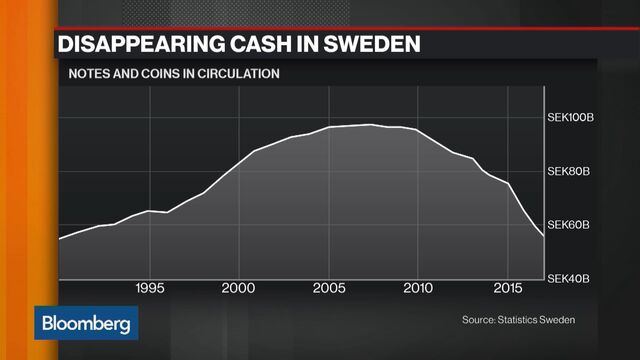 Sweden's biggest banks say warnings that the country might be running dangerously low on cash are overblown.
The Swedish central bank has in recent weeks sounded the alarm, arguing that the largest Nordic economy may be going cashless too fast. Riksbank Governor Stefan Ingves has even called for legal changes to safeguard the governance of Sweden's payment system.
But the industry says it still offers the cash needed and argues that there's little point in fighting a trend that bank customers themselves are driving, according to interviews with industry representatives conducted by Bloomberg.
Most of Sweden's bank branches no longer have over the counter cash handling, but the industry still offers cash withdrawals and deposits in machines provided by their joint venture partner, Bankomat AB.
Hans Lindberg, chief executive officer of the Swedish Bankers' Association, says banks will continue to provide cash at branches and machines. "All parties" need to "take their responsibility for "those people who still want to use cash," he said.
But with the payment infrastructure changing, only a handful of Nordea Bank AB and SEB AB branches still handle cash over the counter, referring customers to machines instead. Swedbank AB has also removed such services from most of its 218 branches.
Even Svenska Handelsbanken AB, which has done more than its competitors to maintain its branch structure, is no longer handling cash at 140 of its 420 branches.
Handelsbanken spokesman Johan Wallqvist says cash usage is decreasing fast, "but many of our customers demand manual cash services and we continuously adjust to what they want."
Bankomat (owned by Handelsbanken, Nordea, SEB, Swedbank and Danske Bank A/S) is increasingly setting up so-called cash centers in places with lots of consumer traffic, such as shopping malls and transport hubs. It plans to open 30 new centers this year.
The government-appointed committee reviewing the Riksbank's broader framework is due to publish a special report this summer about the risks of cashlessness. Ingves has floated the idea that banks may need to be forced to handle cash, an argument also voiced by cash handling provider Loomis AB.
Swedes Now at Risk of Losing Access to Cash in Parts of Country
SEB spokesman Frank Hojem says such a rule wouldn't change much. "SEB already provides cash in basically all our branches," he said.
Before it's here, it's on the Bloomberg Terminal.
LEARN MORE