business
RBA Hike Even More Elusive on Disappointing Growth, Trade Fears
By
Australia's annual GDP growth slows to 2.4% in fourth quarter

Lowe warns of potential for 'very big shock' to global economy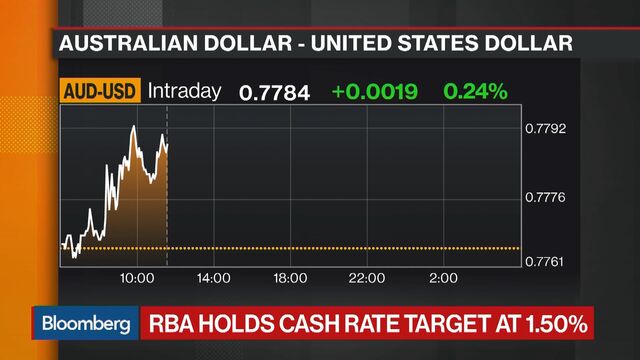 Traders pushed out bets on Australia's next interest-rate hike as economic growth missed forecasts and fears of a global trade war mounted.
The chance of a December rate increase was pared to just over 40 percent Wednesday after data showed gross domestic product slowed to 2.4 percent from a year earlier. The release came shortly after Reserve Bank of Australia Governor Philip Lowe lashed out at U.S. tariff proposals, urging targeted nations not to respond.
"This could turn very badly though if it escalates," Lowe told a conference in Sydney Wednesday. "If we see retaliation and a counter retaliation, this could turn into a very big shock for the global economy."
Read more: Australia's Lowe Warns on Trump Tariffs
Around the time of Lowe's comments, President Donald Trump's top economic adviser announced he was quitting. The director of the National Economic Council, Gary Cohn, had furiously lobbied against Trump's protection plans, which risk retaliation from both allies and major trading partners like China. The European Union is already preparing punitive tariffs on iconic U.S. brands produced in key Republican constituencies.
Trump's announcement last week that he would press forward with a 25 percent tariff on steel imports and 10 percent on aluminum left markets reeling. Meanwhile, his administration is considering clamping down on Chinese investments in the U.S. and imposing tariffs on a broad range of its imports to punish Beijing for its alleged theft of intellectual property, according to people familiar with the matter.
The intensifying dispute came as weaker exports proved a key drag on Australia's growth slowdown in the fourth quarter. Following the report's release, Treasurer Scott Morrison said the data underlined that the nation is "not immune to what happens in the rest of the world."

Wednesday's GDP report also showed:
The economy grew 0.4% from the prior quarter vs estimated 0.5% gain
Non-dwelling construction slumped 8%, subtracting 0.5 percentage point from GDP growth; exports fell 1.8%, subtracting 0.4 point
Net exports were "the main drag on the figures," Morrison said. "It highlights the need to keep fighting for access in international markets." Coal shipments in the final three months of last year were interrupted by poor weather and associated issues. 
Australia's economy is steering toward services-driven growth and away from mining investment -- reflected in the construction drop -- with the RBA keeping interest rates at a record low to support the transition. While businesses have boosted investment and hiring, including a record 300,000 full-time jobs last year, unemployment is falling only slowly and inflation just creeping higher as spare capacity remains in the economy.
"Productivity slowed in the December quarter but that is to be expected given the extraordinary lift in employment over the year," said Craig James, an economist at Commonwealth Bank of Australia's securities unit. "Once the new workers get up to speed, they should –- in theory –- be boosting output and lifting economic growth. It is an area to watch over 2018. "
Despite record-high debt and weak wage growth, household spending jumped 1 percent in the quarter, though the savings ratio was again historically revised down. The government is providing some support to demand with large infrastructure projects to help eastern states cope with a surge in population growth. State spending climbed 1.7 percent in the quarter.
The RBA says it expects economic growth to accelerate this year from 2017, which should help soak up spare capacity.
— With assistance by Jason Scott
Before it's here, it's on the Bloomberg Terminal.
LEARN MORE