Zimbabwe's Ruling Party Ready to Scrap Mugabe Policies, Officials Say
Bloomberg News
Ruling party to court western nations, cool 'look east' policy

Southern African nation due to hold elections by Aug. 31.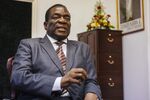 Zimbabwe's ruling party plans to bolster its campaign for this year's general elections by jettisoning former President Robert Mugabe's "look east" policy toward China and Russia and adopt some of the opposition's key initiatives, according to three senior party officials.
Since Emmerson Mnangagwa replaced Mugabe as president after a military intervention in November, the authorities in Harare, the capital, have shown a willingness to re-engage with western nations and institutions in an effort to kick-start an economy that has halved in size since 2000.
It's also prepared to reverse so-called indigenization laws -- except in diamonds and platinum -- that force companies to sell or transfer 51 percent stakes to black Zimbabweans, allow white farmers to resume production, though not on the land they were forced to quit, and make it easier for foreign companies to repatriate their profits, according to the officials, who asked not to be identified because the matter hasn't been made public.
Presidential and parliamentary elections in the southern African nation, which are due by Aug. 31, may take place as early as May. The death of Morgan Tsvangirai, leader of the Movement for Democratic Change, on Feb. 14 and the ensuing battle to replace him have strengthened the ruling party's chances to dominate the vote.
Farming Revival
Mnangagwa needs to revive a farming industry that collapsed following Mugabe-sanctioned land seizures of mostly white-owned commercial farms since 2000. The goal of easing the indigenization laws is to unlock investment in mining.
The country also needs foreign assistance, but the IMF has said a financial program will only be possible if Zimbabwe clears its arrears with international institutions -- such as the fund's sister organization the World Bank -- and other creditors.
The country is so strapped for cash that 97 percent of transactions are made through mobile phones or credit or debit cards, according to the central bank
Mugabe's unpopular "look east" policy saw little Chinese or Russian investment, and in operations that were started local workers complained of ill-treatment, exploitation and disregard for the country's labor laws.
With debt in the region of $10 billion to multilateral lenders, Mnangagwa sees salvation in mining and agriculture. It's wooing companies for minerals from lithium to diamonds while luring white farmers back onto the land with offers of 99-year leases.
The government has already taken action to improve relations with the public by removing police roadblocks where travelers complained bribes were demanded.
— With assistance by Karl Maier
Before it's here, it's on the Bloomberg Terminal.
LEARN MORE