U.K. Welcomes Saudi Prince in Push for International Credibility
By and
Red carpet for 'MBS' as London plans post-Brexit partnerships

Protests over Yemen and arms as May's government courts deals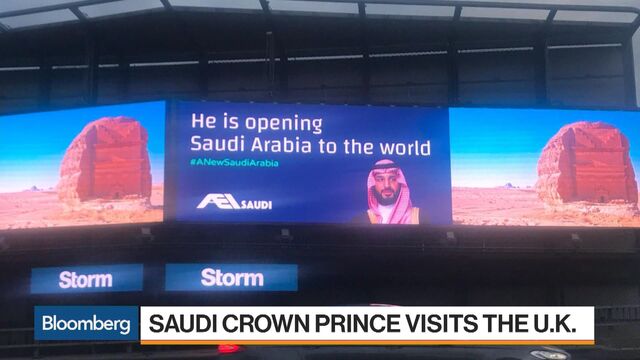 Crown Prince Mohammed bin Salman's lightning reform program for Saudi Arabia will face its first test abroad Wednesday as he holds talks in London at the start of a tour of capitals designed to burnish his credentials as a leader in waiting.

He will meet with Prime Minister Theresa May and Queen Elizabeth II as he seeks to put foreign policy controversies in Yemen, Lebanon and Qatar to one side and prove he can be a reliable partner as Britain seeks to forge new relationships after voting to quit the European Union.
Read more: The Brash Young Leader Behind the Big Saudi Shakeup: QuickTake
The prince, who has overseen a series of domestic reforms and a crackdown on corruption since his appointment in June, will then travel on to meet President Donald Trump in Washington before taking his charm offensive to cities across the U.S. He stopped off in Egypt on his way to London.
"Prince Mohammed will want to reassure investors after the November purge and asset grab, demonstrate that he can conclude deals and seek to improve the kingdom's tarnished image," said James Dorsey, a Middle East specialist at Singapore's Nanyang Technological University. "He will also want to solidify support for his tough anti-Iranian stance and try to win greater empathy for his boycott of Qatar."
Strategic Benefits
The U.K. government said it will raise concerns over human rights and the war in Yemen. Still, Foreign Secretary Boris Johnson urged critics of the regime to recognize the economic and strategic benefits of the relationship and support the change that the crown prince could bring, including greater rights for women.
"I believe that the Crown Prince, who is only 32, has demonstrated by word and deed that he aims to guide Saudi Arabia in a more open direction," he wrote in an article posted on the Foreign Office website. "Our role must be to encourage him along this path," he wrote. "I want Saudi Arabia to do more to protect human rights, but we cannot deliver these messages or resolve our disagreements unless we meet the kingdom's leaders."
Johnson emphasized the importance of Saudi Arabia to the British economy, saying that there were exports worth 6.2 billion pounds in 2016 which in turn supported "tens of thousands" of U.K. jobs. British lives have also been saved by Saudi intelligence, Johnson said.
Aramco's IPO
Memorandums of Understanding for 14 trade deals are due to be signed during the visit, but British officials don't expect a decision on who will host the initial public offering of state oil company Aramco. London has been vying with New York for the listing but an announcement is not imminent, according to a person familiar with plans for the visit.
Britain is Saudi Arabia's second-biggest supplier of defense equipment and London-based based BAE Systems has been waiting for a follow-on order for the Eurofighter Typhoon fighter jet after the controversial Al-Yamamah sale of 72 of the warplanes in 2006. A deal would boost U.K. industry as Britain tightens its own defense spending.
Opponents of the Saudi regime will stage protests to the visit outside May's London residence, arguing that Britain should not be selling arms to Saudi Arabia or rolling out the red carpet to the prince.
"He is a figurehead for one of the world's most authoritarian dictatorships," Andrew Smith, of the Campaign Against the Arms Trade, said in an e-mailed statement. "It is time for Theresa May and her colleagues to end their shameful support for this appalling autocracy."
Royal Lunch
The prince's itinerary shows how determined May is to nurture the relationship and build on successive British governments' support for the regime in return for lucrative arms deals and investment.
He will have lunch with the Queen, dinner with Prince Charles and Prince William, the next two in line to the throne, and hold meetings with the most senior ministers in the British government. He will also be briefed by British intelligence officials and hold talks with May at her country retreat outside London.
"Saudi Arabia is changing. We have seen recent decisions to allow women to drive from June this year, a target for women to make up one third of the Saudi workforce by 2030, and a move to develop sectors such as health, education, infrastructure, recreation and tourism," May said in a statement announcing the visit. "These are all sectors where the U.K. leads the world and where there are new opportunities to work together."
And the crown prince's performance on the world stage will affect his standing at home and send signals about Saudi intentions in a region in turmoil.
"He needs to more clearly explain what is happening in Saudi Arabia. There is a lot of confusion in many places about this," said Paul Sullivan, a Saudi specialist at Georgetown University in Washington. "Unless he establishes himself as a solid and creative leader who can get things done his projects, Saudi Arabia, the region and even the world -- especially the world economy -- could be at considerable risk."
— With assistance by Benjamin D Katz
Before it's here, it's on the Bloomberg Terminal.
LEARN MORE