politics
Trump Says U.S. Working Hard to Prevent 2018 Election Meddling
By
Says Russians had 'no impact' on votes in presidential race

Believes other countries probably also interfered in 2016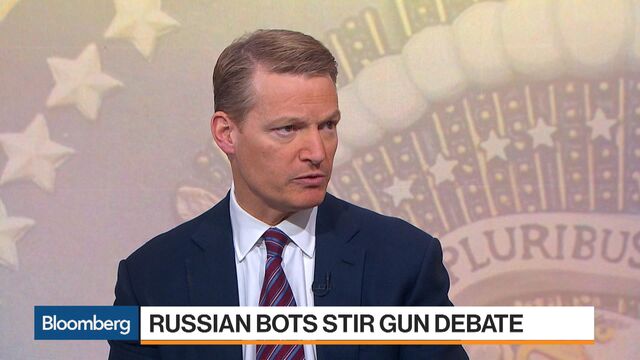 President Donald Trump said Russia had "no impact on our votes" in the last presidential election and vowed to prevent any interference in the upcoming congressional elections.
"We've actually been working very hard on the '18 election," Trump said Tuesday during a press conference at the White House with Swedish Prime Minister Stefan Lofven. He added that the U.S. would "counteract" any Russian efforts to interfere "very strongly."
Trump has called investigations of Russia's meddling in the 2016 elections a "witch hunt," even as Special Counsel Robert Mueller has indicted 13 Russians for spreading false information on social media during the campaign, and top intelligence officials have warned that the Kremlin is likely to repeat its efforts in November's election.
"The Russians had no impact on our votes," Trump said Tuesday, adding that other countries and other individuals also probably meddled in the campaign.
The Internet Research Agency, a Russian organization, and the defendants began working in 2014 to interfere in U.S. elections, according to the indictment. They used false personas and social media while also staging political rallies and communicating with "unwitting individuals" associated with the Trump campaign, it said.
Navy Admiral Michael Rogers, the outgoing chief of the National Security Agency and U.S. Cyber Command, told lawmakers last week that Russia hadn't "paid a price" for election interference.
The U.S. will impose new sanctions on Russia within weeks, Treasury Secretary Steven Mnuchin said last month. Trump, after initially praising Russian President Vladimir Putin, has recently criticized the Kremlin over its support for the Syrian government's bombing campaign in Eastern Ghouta.
Trump has offered to order intelligence agencies to take more action against cyber threats if his intervention is needed, according to the top U.S. spy chief, who said Tuesday the White House is "actively engaged" in responding to Russian election meddling.
Director of National Intelligence Dan Coats told the Senate Armed Services Committee on Tuesday that he's spoken about cyber threats with Trump. Coats said the president told him, "I assume you're doing your job -- all of you who head up these agencies relative to cyber -- but if you need for me to say, direct you to do it, do it."
— With assistance by Nafeesa Syeed
Before it's here, it's on the Bloomberg Terminal.
LEARN MORE