business
Oprah Charms Wall Street at Power Lunch With Henry Kravis, Leon Black
By
She receives David Rockefeller Award at MoMA fundraiser

Winfrey to also host the Robin Hood Foundation benefit in May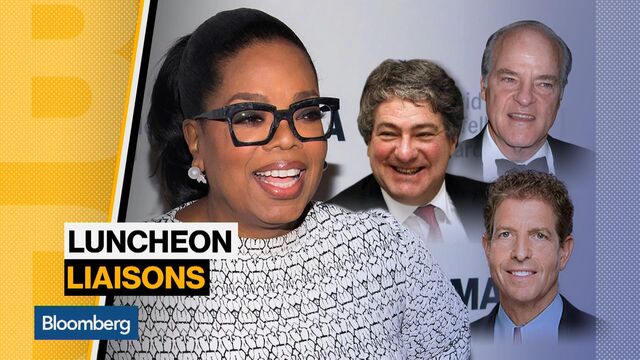 Oprah Winfrey may have moved past the talk of her running for president, but on Tuesday she found an audience of Wall Street titans who could easily back her campaign.
Winfrey joined private equity billionaires Leon Black and Henry Kravis, as well as hedge fund founder Dan Och, at a fundraising luncheon for the Museum of Modern Art to accept the David Rockefeller Award "for enlightened generosity and advocacy of cultural and civic endeavors."
At the Golden Globes in January, Winfrey accepted the Cecil B. DeMille award with a rousing speech promising "a new day" for women, minorities and the downtrodden, sparking speculation about a presidential run -- and sending shares of Weight Watchers International higher. At the MoMA luncheon, by contrast, Winfrey got a few minutes with a Wall Street-heavy crowd at an event that's one of the top draws on New York's philanthropic circuit.
"The last time I accepted an award, I accidentally wound up running for president," Winfrey, 64, told the audience. "So I'm going to choose my words very carefully today."
'Something More'
Winfrey, an avid collector, spoke about the "transformative" power of art and the role it has played in her life. She said she started with buying inexpensive postcards and eventually progressed to bidding on masterpieces at auction.

"At a time when the world seems to have gone off its rocker, the notion that art can sometimes actually remind us of who we really are suggests the possibility that there is something more and there is something better," she said.
Winfrey will get more time with business leaders in May, when she chairs the Robin Hood Foundation benefit, a gathering of about 4,000 people from top banks, hedge funds and Fortune 500 companies. Winfrey attended the event last year, sitting with Kravis and Ken Griffin.
Tuesday's luncheon at New York's Ziegfeld Ballroom started with waiters offering chardonnay, sparkling water and bites of steak tartare on toast. The menu included a mizuna, tatsoi and Asian pear salad, farmhouse chicken breast with wild rice and maitake mushrooms, and a coconut cream vacherin. Salad greens, fruit and chicken breast are zero points in the Weight Watchers Freestyle program.

Winfrey, who's been busy promoting her new movie "A Wrinkle in Time," owns almost 10 percent of Weight Watchers.
Geffen, Hobson
Tickets to the event ranged from $2,500 to $10,000, helping to raise $3.4 million for the museum's arts-education program. Hollywood mogul and MoMA benefactor David Geffen was among those attending, as were artists Yinka Shonibare and Huma Bhabha, Ariel Investment's Mellody Hobson and former Lehman Brothers Chairman Dick Fuld.

The museum indirectly played a role in Winfrey making a 71 percent profit from the sale of a Gustav Klimt painting. She bought "Portrait of Adele Bloch-Bauer II" in 2006 for $87.9 million at Christie's in New York. In 2014, with Geffen's help, she loaned the work anonymously to the museum. Art dealer Larry Gagosian saw it on display and, through Geffen, found a buyer. Winfrey sold the painting for $150 million in 2016, one of the biggest private art deals that year.
Before it's here, it's on the Bloomberg Terminal.
LEARN MORE