business
Nomura Names New Investment Banking Chief in Management Shuffle
By
Yo Akatsuka will replace Minoru Shinohara on April 1

Japanese brokerage is making a renewed push in the U.S.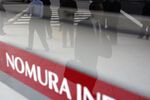 Nomura Holdings Inc. named Yo Akatsuka as global investment banking chief, as Japan's biggest securities firm makes a renewed push to expand its advisory business in the U.S.
Akatsuka, 52, will replace Minoru Shinohara on April 1, the company said as part of an annual management shuffle announced on Tuesday. Among other key changes, current domestic brokerage unit chief Toshio Morita and Americas head Kentaro Okuda will become co-chief operating officers, replacing Tetsu Ozaki, who will take the role of vice chairman, the statement showed.
Chief Executive Officer Koji Nagai has hired at least 15 investment bankers in the U.S. over the past year to bolster the firm's advisory capabilities in North America. Nomura became Japan's top mergers adviser for the first time since 2011 last year, and Shinohara said in an interview in January that he's confident of another bumper year in 2018.
Akatsuka joined Nomura in 1990 after graduating from the University of Tokyo. He had a stint at the London unit, and became a senior managing director in 2014 after leading the firm's equity capital markets business in Tokyo.
Morita, 56, will remain president of Nomura Securities Co. and Okuda, 54, will keep his role as Americas head.
Before it's here, it's on the Bloomberg Terminal.
LEARN MORE