business
Melrose Bosses Mauled by U.K. Lawmakers Over $10 Billion GKN Bid
By
Investment firm comes under fire over level of debt involved

Turnaround company also reproached for short-term strategy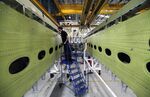 Melrose Industries Plc's bid for GKN Plc was criticized by U.K. lawmakers as destined to pile up debt, relegate long-term strategic thinking at the expense of short-term gain and even pose a risk to national security.
Melrose executives appearing before the House of Commons business, energy and industrial strategy committee Tuesday were forced to defend their record as turnaround specialists and explain how GKN would benefit from the 7.4 billion-pound ($10 billion) takeover plan.
Criticism focused on debt levels, with Melrose disclosing that it would need 3.5 billion pounds to fund the cash element of the deal, cover existing borrowings and provide a reserve. While Chairman Christopher Miller said leverage of 2 1/2 times earnings was "standard" for acquisitions, committee members queried the risks involved in light of recent failures such as Carillion Plc.
"Can you understand in the current climate that people are worried, as many companies feel they are too big to fail and yet all they are doing is increasing their debt?" Albert Owen, a Labour Party legislator, asked the delegation. "This is a company the size of which you've never acquired before."
Lawmakers also highlighted Melrose's commitment to sell firms it acquires within three to five years, arguing that the strategy provides no assurance that GKN will be managed for growth and future success. The tag is no more than a "strapline," Melrose co-founder David Roper said, adding that the bidder would draw on 30 years of experience in running the engineering firm.
'Meaningless'
Chief Executive Officer Simon Peckham pointed to Melrose's plan to sell only the powdered metallurgy unit in the near term, when GKN itself has committed to a breakup of the main aerospace and automotive businesses next summer.
"You may find this ironic but we have a slightly longer-term strategy than GKN has right now," Peckham told the committee, adding that Melrose manages acquired companies as if it was going to own them forever. Labour's Peter Kyle called that assertion "meaningless" in the context of the company's record of "short, occasionally medium-term" ownership of assets.
The Melrose bid could also fall foul of national security requirements both in the U.S. and Britain, given GKN's position as a supplier on aircraft including the F-35, F/A-18 and Typhoon fighters, Chinook and Blackhawk helicopters and A400M military transport, Labour member Vernon Coaker said, adding that he expects the U.K. government to refer the deal for further scrutiny.
Pentagon Visits
Miller said he and other executives have visited the Pentagon twice to discuss Melrose's plans and had no push back. "We are a British company buying another British company," he said. "We start from a good place." In the U.K., no such deal has been sent for evaluation by the Ministry of Defence since the latest legislation came into effect in 2002, Melrose said.
GKN CEO Anne Stevens earlier shed light on the crisis at the Redditch, England-based company's U.S. aerospace business last year that helped spark the biggest hostile contest between two U.K. companies in a decade.
Cost cuts at a plant in Alabama went too deep and resulted in defective products that couldn't be delivered to customers, Stevens told the committee. That situation has now been resolved and the person responsible has left the company, she added. CEO-designate Kevin Cummings, who previously ran the North America arm, was dismissed in November.
Before it's here, it's on the Bloomberg Terminal.
LEARN MORE