hyperdrive
Jaguar Beats Audi to Electric SUV With High-Pressure Design Room
By
Battery-powered model was developed 20 miles from headquarters

Heat is on for Tesla as Model S ages, Model X gets competitor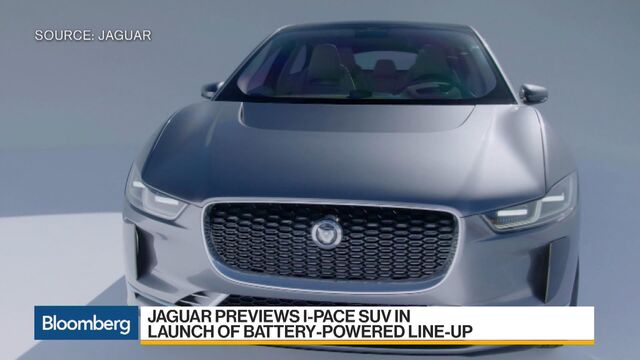 In the high-stakes race to come out with its first all-electric vehicle, Jaguar sent the whole development team away to work at a university 20 miles from headquarters.
"We put first 50, then 150 people in a room some way away from us," said Wolfgang Ziebart, the former head of development at brand parent Jaguar Land Rover. "Without interference from managers, the speed of development was enormous. I went there twice a week, but the people on the team largely took their own decisions."
The result of four years of designing and testing -- versus a typical seven - is the 63,495-pound ($88,000) I-Pace electric crossover presented Tuesday at the Geneva International Motor Show. The car will beat competitors into showrooms, including the Audi Q6 e-tron, which is scheduled to be launched only later this year. Mercedes-Benz's EQ crossover is due in 2019, the same year as BMW's electric version of its X3 sport utility vehicle.
Carmakers are racing to come up with electric models that satisfy consumer demands for longer driving autonomy, shorter charging times and alternatives to compete with models from U.S. pioneer Tesla Inc., all against a backdrop of tighter emissions rules. As manufacturers spend record amounts on the new line-ups, the revelation of Volkswagen AG's diesel-emissions cheating in 2015 has added extra urgency to the technology shift.
Jaguar offered a first glimpse of the I-Pace via an online preview last week before unveiling the vehicle in Geneva. The introduction followed years of development in a single room at Warwick University, with project areas for employees and suppliers configured to flow from one car component to the next. The result was a sense of working at a start-up, said Ziebart in the interview. The SUV, which will have a 300-kilometer (190-mile) range on a fully-charged battery, has been available to order since last week.
"For Jaguar this is a great story, because we've been perceived as quite conservative," Ziebart said. "It's great news for us to be competing as a Tesla challenger."
The wholly-electric line-up at Tesla, which has yet to post a full-year profit, includes the established Model S and new Model 3 sedan as well as the Model X SUV that was first delivered in late 2015.
"Tesla is now going to be put to the test," said Tim Urquhart, an analyst at IHS Markit. "With the Model S now nearly six years old, and the Model X facing direct competition," the U.S. carmaker's "high-end and high price point models will now come under intense competitive pressure."
Since the VW cheating was uncovered, auto buyers in Europe have been deserting diesel cars in droves, in favor of gasoline vehicles that emit higher levels of climate-changing carbon dioxide. That's putting manufacturers' plans for meeting European Union climate goals at risk, exposing them to fines, as the industry strategy had hinged on promoting diesel as a low-CO2 technology for their fleets.
Audi, which so far offers a range of plug-in vehicles, will officially unveil the Q6 e-tron in August in Brussels, where the car will be produced, head of development Peter Mertens said Monday in an interview.  It was displayed in disguised form at the Geneva show.
The vehicle, with a 500-kilometer driving range, will be somewhat higher-priced than its direct equivalents, he said. Jaguar's I-Pace will cost customers about 15 percent more than a comparable vehicle with a combustion engine -- which buyers will make up for in lower running costs, according to Ziebart.
"The battery is very expensive, so we do need customers' willingness to partially take this on," Audi's Mertens said. "Our car is very different to the I-Pace, and we're happy and keen to face the competition head-on. More choice will encourage more customers to decide to go for an electric car."
Before it's here, it's on the Bloomberg Terminal.
LEARN MORE