politics
Hammond Demands Brexit Trade Deal for Banks in Challenge to EU
By
Chancellor wants 'bespoke' accord for financial services

France's Le Maire rejects U.K. plan for FTA covering banks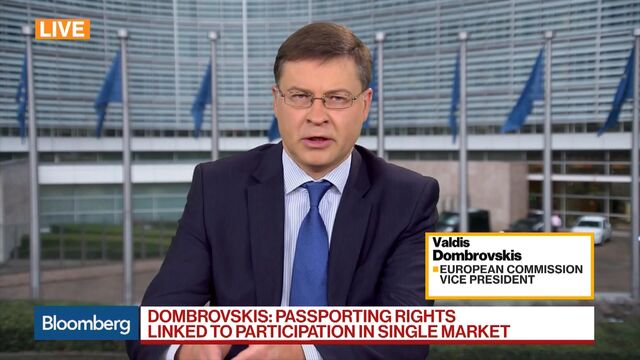 The European Union needs the U.K.'s world-leading financial services industry to stay strong after Brexit, Chancellor of the Exchequer Philip Hammond will say, as he warns "skeptics" there's no excuse for blocking a deal.
In a tough message aimed at European politicians who have previously ruled out such a deal, Hammond will insist that every trade agreement the bloc strikes is unique -- and the Brexit accord should be "so much better" than any other.
"Every trade deal that the EU has ever done has been unique," Hammond will say in a speech in London on Wednesday, according to extracts released by his office. "So I am clear not only that it is possible to include financial services within a trade deal but that it is very much in our mutual interest to do so."
The chancellor is the latest U.K. cabinet member to put flesh on the bones of Prime Minister Theresa May's vision for the future trading relationship the country wants to have with the EU when it leaves in just over one year's time. His intervention comes at a key moment in the Brexit process, with the EU due to publish its own draft negotiating position ahead of talks on the future trade accord, which are due to begin by the end of the month.
'Address the Skeptics'
On Tuesday, France's Economy Minister Bruno Le Maire warned he didn't support the British demand to include financial services in the free-trade deal. "There are some very specific rules for financial services," and they can't be included in a free-trade agreement "for reasons of stability," Le Maire told the BBC.

In his speech, Hammond will dismiss the Frenchman's argument. "It is time to address the skeptics who say a trade deal including financial services cannot be done because it has never been done before," he will say.
"Our businesses and citizens depend on cross-border financial services trade in their day-to-day lives -- when they buy a car, or take out a fixed-rate loan, or hedge their fuel costs."
Read more: Why Britain Is Saying 'Adieu' to the European Union: QuickTake
The U.K. plans to leave the EU's single market. As a result of this, May has given up hope of retaining so-called passporting rights, which allow U.K.-based banks to provide services to all 31 countries that are members of the single market.
Instead, British officials are hoping for an agreement with the EU on the mutual recognition of each other's regulatory standards, though so far European politicians are cool on the plan.
Before it's here, it's on the Bloomberg Terminal.
LEARN MORE