politics
Four Ways Italy Could Break Its Political Gridlock
By
Center-right, grand coalition, populist pact or new election

Votes for new parliament speakers first clue to alliances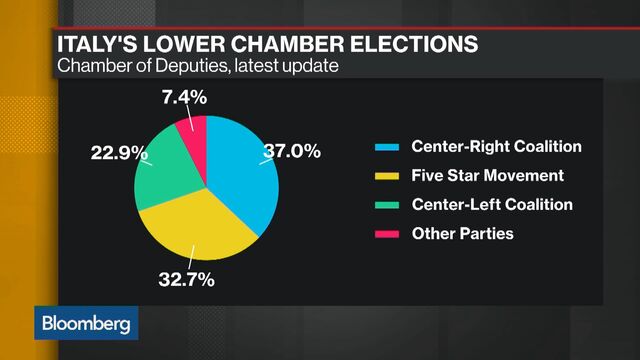 Italy is long used to managing political instability, but giving birth to the country's 65th government since World War II looks a particularly tough order. With the election producing a hung parliament, the prospect of extended political gridlock hangs over the euro-area's third-biggest economy.
Italy still has a government, because Paolo Gentiloni remains premier. Expect three weeks of public posturing -- and of back-room dealings -- before parliament reconvenes on March 23. That's when lawmakers will pick new speakers for the lower house and the Senate, offering the first clue to new alliances.
Here are four possible scenarios for how it could play out:
Center-Right Rule: turbulence
No single party or coalition won a parliamentary majority. But the four-party, center-right coalition -- no longer "led" by ex-premier Silvio Berlusconi as he was leapfrogged by Matteo Salvini of the euroskeptic League -- is the biggest such bloc in parliament.
Salvini has a deal with Berlusconi that the party with the most votes gets to flag a candidate for the premiership to President Sergio Mattarella. Salvini has already signaled he'll point to himself.
A center-right government is still likely to fall short of a majority, according to Federico Santi, an analyst with Eurasia Group. "The fact the far-right League is for the first time the biggest party in the coalition will also make it harder to 'poach' MPs from other groups than would otherwise have been the case," Santi said. This would be a fractious administration, since Salvini and Berlusconi have clashed repeatedly over issues from Italy's future in the euro area to pension reform. 
Italy's Vote Creates a Problem for the EU: Ferdinando Giugliano

Grand Coalition: pro-EU
A pro-European alliance based on the center-left Democratic Party (PD), its allies and Berlusconi's Forza Italia. The best hope of investors and the EU has taken a knock given the PD's slide to almost half its score in 2014's European elections. PD leader Matteo Renzi said he would quit, but only after a new government is formed.

The PD is headed for opposition, according to Ettore Rosato, the head of its lawmakers in the lower house. Both the PD and Berlusconi said before the vote they wouldn't repeat their past alliance. But many bets are off after elections, especially amid pressure for a national unity government to lead Italy out of crisis.
Renzi could still face a leadership challenge in the coming weeks. "If the leader of the PD changes, the policy of the PD will change too and it could open up to some form of broad coalition," said Massimo Luciani, a professor of constitutional law at Rome's Sapienza University. But it looks ambitious to get the many extra lawmakers both sides would need for a majority.
Populist Pact: anti-EU
The nightmare scenario for Europe. The anti-establishment Five Star Movement became the single biggest party and its leader, Luigi Di Maio, told reporters he was "open to talks with all parties." What matters is how much he is willing to give. He said before the vote that he would offer a "government contract" -- a deal short of a coalition -- insist on being premier, and refuse to share out ministerial jobs.

If Di Maio doesn't change his tune, he'll have a hard time making friends. Fellow-populist victor Salvini said Monday that the center-right won and so "can govern" -- which rules out a coalition with Five Star, assuming that is on offer.
Both parties want to scrap a pension reform which raised the retirement age and overhaul EU treaties. "Any government involving the League or Five Star is likely to take a confrontational stance against the EU, especially on immigration," said Richard Turnill, BlackRock's global chief investment strategist. Such a government "would partially roll back fiscal prudence and economic reforms."
New Elections: unpredictable
Last card in the pack. "If the first person Mattarella picks fails to form a majority, the president can try someone else, and try again," said Giovanni Tarli Barbieri, a professor of constitutional law at Florence University. But, he added, "this can't go on for two months."
Mattarella would seek to ensure that a new government, led by a politician or a technocrat, focuses on getting the 2019 budget through by the end of the year. He'd also want to see changes to the electoral system before another vote. But to achieve even that, a new majority is needed.
BlackRock's Turnill sees "an increased probability of new elections after the summer."
Before it's here, it's on the Bloomberg Terminal.
LEARN MORE