business
Europe's Retaliatory Steel Tariffs Take Aim at Tiny Target
By
U.S. steel accounts for less than 1 percent of EU imports

Brunt of impact felt by other industries, such as agriculture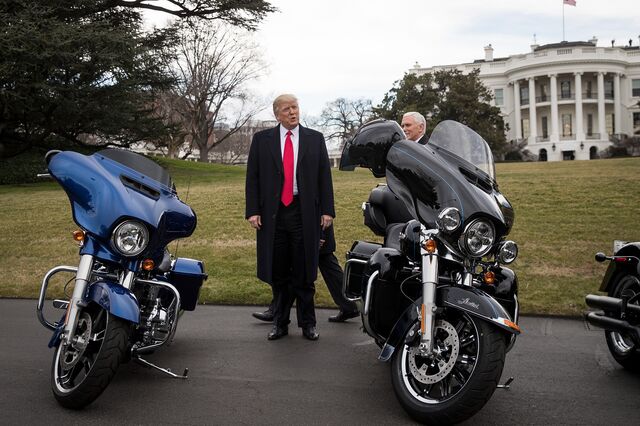 Europeans might hanker after blue jeans and Kentucky bourbon, but they don't have much appetite for American steel.
Of the almost 40 million metric tons of the metal that the European Union imports every year, less than 1 percent -- or about 250,000 tons -- comes from the U.S. Existing trade protections make American steel costlier, even before any retaliatory measures the region may impose if President Donald Trump enacts the 25 percent tariff he announced last week. As a net importer, the U.S. also has less to spare. That means most of Europe's imports come from Russia and Asia instead.
The brunt of the EU's planned tit-for-tat levies on $3.5 billion worth of goods will be felt by other American industries, such as clothing and alcoholic drinks. Duties on whiskey and bourbon will total about $560 million -- accounting for the bulk of the tariffs on agriculture. Other products like cranberries, kidney beans and peanut butter would be affected, but have a much smaller value.
About $163 million of American corn would be hit by the tariffs. The U.S., the world's biggest corn producer, has accounted for just 3.3 percent of European corn imports so far this season, with the largest supplier being Brazil.
The imposts on $1.1 billion of U.S. steel will go, not only on steel itself, but on industrial products such as pallets, nuts and bolts, and even cooking appliances -- including the kitchen sink.

The biggest impact for steel products will be on stainless. The U.S. ships 150,000 tons to Europe each year, with Italy the third-biggest importer. The EU plans to put tariffs on more than 20 stainless products.
The U.S. imported about 30 million tons of steel in 2016 compared with exports of 8.9 million tons. Almost 90 percent of exports so far this year have remained within the North American Free Trade Agreement, with Canada its single biggest market.
— With assistance by Viktoria Dendrinou, and Jonathan Stearns
(
Updates with corn imports in fourth paragraph.
)
Before it's here, it's on the Bloomberg Terminal.
LEARN MORE