Ethics Office Finds Kellyanne Conway Broke Law in Alabama Race
By
Hatch Act violation 2nd time Conway found to break ethics laws

Law leaves penalty, if any, up to Trump's discretion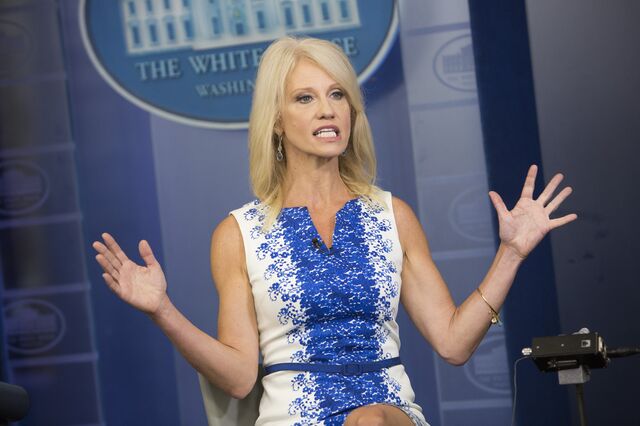 White House aide Kellyanne Conway twice violated the law that forbids officials from engaging in political activity in their government capacities with comments she made in television interviews about last year's Alabama Senate election, the Office of Special Counsel said in a report sent Tuesday to President Donald Trump.

Special Counsel Henry Kerner said he was referring his office's findings to the president for "your consideration of appropriate disciplinary action" for her violations of what's known as the Hatch Act. Kerner's office oversees investigations of Hatch Act violations in the executive branch and isn't related to Special Counsel Robert Mueller or his investigation of Russian meddling in the 2016 presidential election.
It is up to Trump to decide what, if any, action to take against Conway, a close aide who managed his 2016 presidential campaign. The White House disputed Kerner's findings.
"Kellyanne Conway did not advocate for or against the election of any particular candidate," Deputy Press Secretary Hogan Gidley said in a statement. "She simply expressed the president's obvious position that he have people in the House and Senate who support his agenda."
Kerner determined that she broke the law during two interviews, one in November on Fox News and another in December on CNN, when Conway appeared in her official capacity as she boosted the candidacy of Republican Roy Moore and discussed why voters shouldn't support his Democratic opponent, Doug Jones.
"During both interviews, she impermissibly mixed official government business with political views about candidates in the Alabama special election," Kerner said in his letter to Trump.
It is the second time Conway has been found to violate federal ethics laws through her public statements.
In February 2017, the Office of Government Ethics said that Conway engaged in "a clear violation of the prohibition against misuse of position" when she boosted first daughter Ivanka Trump's fashion lines. "Go buy Ivanka's stuff is what I would say," Conway said in a Fox News interview. "I'm going to give a free commercial here: Go buy it today, everybody; you can find it online."
Conway faced no disciplinary action for her prior ethics-law violation, though then-Press Secretary Sean Spicer said Conway had been "counseled" about her statement.
Penalties for Hatch Act violations can range from a fine of $1,000 to removal from federal service. In the case of political appointees, like Conway, penalties are determined by the president. Recent violations, including one in the Obama administration, have resulted only in additional training for the appointees.
In 2017, Conway received several training sessions and updates on ethics policy, the Special Counsel report said. That included an initial senior staff training session in January 2017, an individual meeting with Deputy White House Counsel Stefan Passantino that March and an April followup. The counsel's office said it also "often provided" guidance on the Hatch Act to Conway when she received requests to appear at political events.
After the November interview on Fox News, the Office of White House Counsel reached out to Conway again "due to the Hatch Act concerns raised by her interview and again provided her with Hatch Act guidance," the report said. In early December, Conway and other White House employees were sent a reminder on the use of official resources, which included information about the Hatch Act.
— With assistance by Bill Allison
Before it's here, it's on the Bloomberg Terminal.
LEARN MORE