Congress Lacks Gun Consensus After Trump Retreats From Broad Plan
By and
No plans for major bill three weeks after Florida shooting

Senate's No. 2 Republican pushes narrow background-check bill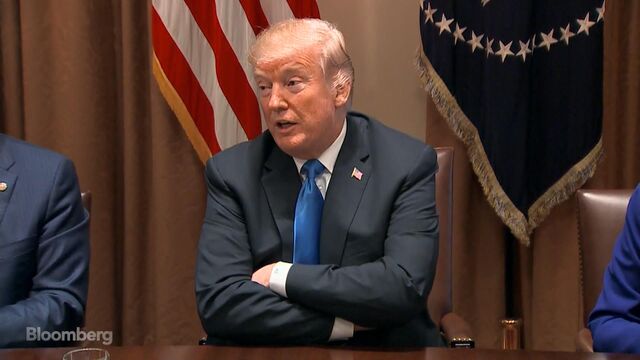 In the three weeks since the Florida school massacre, there's no sign of a consensus in Congress on proposals to prevent future attacks after President Donald Trump's administration backed away from his initial call for "comprehensive" gun control.
Two House committees are planning hearings in response to the Feb. 14 shooting that killed 17 people at a high school, but the only legislation headed to the floor so far is a bill to give schools money for safety measures. In the Senate, second-ranking Republican John Cornyn of Texas reiterated his push for a simplified debate, beginning with a measure to bolster reporting into a federal background-check database. With 50 co-sponsors, the bill may have the votes to pass and would help improve gun safety, he said.
"Maybe we ought to do a better job branding what we are selling here, and what we are selling is something vital that will help save lives," Cornyn of Texas said Tuesday.
Trump briefly reset the debate over guns last week with his surprise embrace of gun control measures opposed by the National Rifle Association, including a higher age limit for buying assault weapons. But the administration quickly backed off after the president had a private dinner with the NRA's top lobbyist and Vice President Mike Pence.
Congressional leaders resisted taking up proposals advanced in recent months to address the circumstances of different mass shootings, including a ban on bump stocks that allow rapid firing, raising the minimum age to purchase an assault-style rifle and allowing court orders temporarily disarming people seen as a danger to themselves or others.
Concealed-Carry Permits

The House passed a background-check bill in December, but attached it to a measure that would require states to honor concealed-carry permits from other states. During Trump's meeting with bipartisan lawmakers in front of TV cameras at the White House last week, the president said the concealed-carry measure had no chance of passing and the Senate should strip it from the bill.
Later in the week, though, White House spokeswoman Sarah Huckabee Sanders said the president wasn't "fully on board" with the idea of a comprehensive gun-control measure that he described during the meeting two days earlier.
Cornyn warned Tuesday against pushing a broad measure with multiple provisions that wouldn't be able to pass the GOP-led Senate or House.
House leaders have been cautious about staking out a firm position until the Senate proves what it can pass with the help of enough Democrats to overcome a filibuster. In coming weeks, the House Energy and Commerce panel plans to look at mental health issues and gun access, while the House Judiciary Committee wants to hear from Federal Bureau of Investigation officials on red flags that could have identified the Florida shooter as a threat.
Majority Leader Kevin McCarthy of California said the House is scheduled to vote next week on the Stop School Violence act, which focuses on school security, rather than gun control.
Lawmakers' response to what activists say is a national crisis might not be enough for the protesters organizing the March 24 "March for Our Lives" in Washington. Organizers say more than 400 simultaneous demonstrations are planned around the country to end mass shootings in the U.S.
Quinnipiac Poll
A Quinnipiac University poll released Tuesday showed that American voters support stricter gun laws, 63 percent to 32 percent. Sixty-one percent support a nationwide ban on military-style semiautomatic rifles like the one used in the Florida massacre and 63 percent back eliminating the sale of high-capacity magazines that hold more than 10 rounds.
There's also is broad support for some of the other ideas being discussed, including raising the minimum age to purchase a firearm to 21, allowing police or family members to petition a judge to take guns from a person at risk of violent behavior. However, 58 percent oppose allowing teachers and staff to carry firearms at school.
The burden is on Republicans as 57 percent of voters say the GOP would be at fault if Congress doesn't pass stronger gun laws.
The poll was conducted March 3-5 and has an error margin of plus or minus 3.5 percentage points.
Michael R. Bloomberg, founder of Bloomberg LP, which operates Bloomberg News, serves as a member of Everytown for Gun Safety's advisory board and is a donor to the group. Everytown for Gun Safety advocates for universal background checks and other gun control measures.
Before it's here, it's on the Bloomberg Terminal.
LEARN MORE